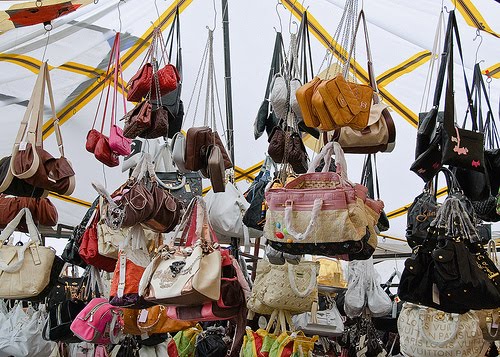 What do you think of when you think of the Queen of England?
What is the image comes into your head?
Her slightly bend frame? Her permanent rictus looking smile? Her classic wave? Or do you, like me, see her in her sensible shoes and clutching tightly onto her Royal handbag? I have often wondered what she carries in there, seeing as though Royalty apparently don't carry money and she has ladies-in-waiting and all kinds of other minions to cater for her every need. I'd love to have a furkle in Lizzy's bag. But I digress. The point I am actually trying to make is that to me, the Queen always carries what I consider to be the quintessential handbag. A square, solid, sensible bag designed to clasp firmly in your paw!
Now, I'm as much of a bag woman as the next girl, but have never been a fan of the handbag per se, always preferring a long shoulder strap to facilitate the draping of said bag around my person (and my preferred option is a strap long enough to wear across my body thereby allowing both hands to go about their business unhindered by bag duties). But I don't know any woman who would dream of going out without her bag. For us girls, bags are an essential part not just of our wardrobe but of who we are. You can tell a fair bit about a woman from her bag… but you can do a full character profile by analyzing the contents of said bag. And right there is one of the most interesting things about women and their bags. Why is it we get so uneasy when someone else delves into the depths of one of our most personal spaces? Early on in our relationship, the photographer learned that only in a case of life or death should he ever delve his masculine arm into the inner sanctum of my bag. Kids are not permitted inside either. I'm sure I'm not alone in that…. please tell me I'm not.
Who remembers the anger in this country when the late Brian Lenihan insisted that "sure everyone partied through the Celtic Tiger years". We all looked at each other and declared indignantly "I most certainly did not party." But we know who he was talking about. Yep, he was most definitely referring to the women with more money than sense who paid huge sums of money for the latest designer handbag for which they had to wait months, on a list in Brown Thomas. Can you imagine their excitement when they finally got the phone call to tell them that the latest Gucci bag had arrived with their name on it? No? Well me neither.
If your bag says a lot about who you are, I guess I am generally big and cheap! For casual wear I like a roomy bag, generally an unstructured shape that can mould itself against my hip in a decorous manner. When attempting to look a little more business like I tend favour a satchel type bag, although it should be said that as I buy cheap bags, I probably achieve more of an unsuccessful business like look! Finally I have one or two small bags. These are specifically only ever used when I fly with Ryanair. They have been chosen carefully so that I have quick access to my phone and money while in the airport but which can then be squashed into my cabin bag in order to get past the eagle eyed staff at the boarding gate. Or if its winter they can usually be hidden under ones jacket! Ohh the feeling of power when you know you have duped Ryanair and their SAS type boarding procedures.
I did once spend a lot of money on a bag. It was during my black phase and although I was going to a wedding, I was aware that I was running the risk of looking like a grieving widow. I thought a nice, sophisticated bag would be just the thing. Silver, I thought would be nice and so splashed out about €100 on a sparkly handbag to add a dash of glamour to my look. I actually still think it's a nice bag but I also still smart at the slagging I got at the wedding from my so called friends, one of whom is a classic handbag connoisseur. They thought my silver bag was hilarious… in fact I think the Queen was ever mentioned, as in "doesn't the Queen have a handbag like that". To this day my very expensive silver sits sadly in my wardrobe, like a sad butterfly who only lived for one day.
Maybe it's time my handbag went out again… and I have just the event for it. Next Thursday, 27th of October, Heavenly Handbags, an auction and sale of pre-loved bags takes place in The Lost Society, Powerhouse Town Centre, Dublin 2. This event is being jointly organised by Boots and The Hospice Foundation and will raise funds for Childrens Hospice Homecare. Along with bags there will be pampering and wine and tasty canapés. Doors open at 6pm and tickets are only €20 from Boots in Grafton Street, Stephens Green SC, Dundrum SC, Swords Pavillion and Donnybrook. Grab a few girl friends and get along… it should be fun and you would be helping a great cause. Oh and if you see a lovely silver handbag give it a wave….and don't laugh!
Photo by Chris P on Flickr