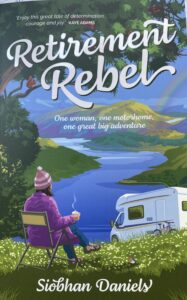 My book, Wise Up (Wisdom, Power, and the Older Woman) published last June and just over a month later I was in my beloved Ahakista on the Sheep's Head Peninsual in West Cork.  Ahakista is not really a village, but it does have two great pubs, one of which is the Tin Pub and is only open in summer. The creatively named tin roofed pub bursts with atmosphere, live music and good craic and has a stunning garden that goes down to the water. It's a real home from home on a summer evening and we find ourselves there most nights when we are in Ahakista.
So back in July, myself and himself stroll down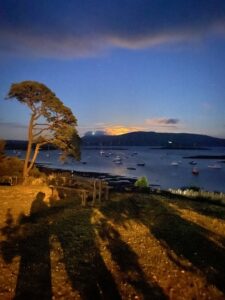 as usual, to the Tin Pub for a drink and a chat with whoever is there. I pushed open the door and stepped inside to a gaggle of women who were clearly having high good craic.  I took a stool at the bar, and with a G&T, I watched as this bunch of women in their 50s and 60s played an extremely complicated game of Darts.
It's fair to say that they were a mixed ability bunch. Indeed some of them were putting the few other punters in the bar that night in possible danger as they launched their darts only in the very general direction of the darts board. But it was their enthusiasm, their pure joy in each other's company and their total lack of concern as to what anyone made of them, of their attempt at Darts, or of their high good humour that was, for me, more intoxicating than my gin. I learned that they called themselves 'The Darts Tarts'.
Before long I was cajoled into joining them even though I had no clue as to what I was meant to do. But that didn't matter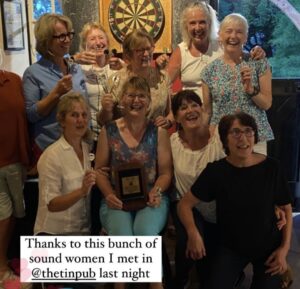 and wasn't the point either. The point was the fun, the banter, and the pure joy of it all.
The game finished and before another started, I went out into the garden to admire grandmother moon who was rising behind Mount Gabriel across the bay. And I was joined by one of the darts women. We got chatting and she asked me what I did. I told her I was a writer and had just published my first book.  "No way" she exclaimed, "so have I."  We then discovered that we had both written remarkably similar books.
In the light of the Mead Moon, in a pub garden in deepest West Cork I felt like I had met not just one but a group of soul sisters one of whom had written, just like I had, about being a 60+ woman. We promised to swap books in due course and have been following each other on social media since.
The woman I was talking to was Siobhan Daniels and her book is called 'Retirement Rebel – one woman, one motorhome and one great big adventure'. Siobhan is English and was on holiday with a good friend who is from near Ahakista. She bubbled with life and positivity but having just started her book, I know she wasn't always like that.
Her book is described as "an inspirational book about how your life can be turned upside down but you can still land on your feet" and "a siren call to anyone who has allowed others to define their direction, ambition and ultimately happiness in  life."
So, if you read and liked Wise Up, Retirement Rebel is likely to appeal to you too.  It is available from Amazon.  Siobhan is on Instagram @shuvonshuvoff.