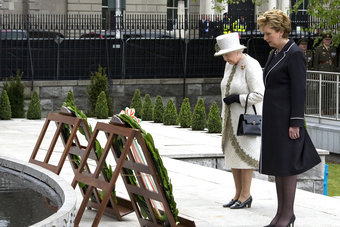 At about 5.30pm on the 17th of May 1974 three car bombs exploded without warning in Dublin city centre. 27 people died. At 7pm another car bomb exploded in Monaghan. In total 33 people lost their lives that day and a further 300 were injured. It marked the single greatest day of casualties in the period known as 'The Troubles'. It was one of the darkest days that I can remember, ranking alongside Bloody Sunday in Derry. And it had a personal relevance. My father was attending a meeting in the North Star Hotel on Amiens Street. I can remember the tension at home that evening until we heard he was alright.
There were many such dark days in the recent history of Ireland and Great Britain. Enniskillen, Canary Wharf, Omagh… just some of the place names burned into the consciousness of our peoples as the scenes of brutal atrocities.
The 17th of May 2011 will be a day that will also be burned into my consciousness. I will remember it as the day when I watched, albeit from distance of my living room, as the President of Ireland, Mary McAleese led the British Monarch, Queen Elizabeth II into the Garden of Remembrance, so that she could pay her respects to the memory of all those who gave their lives in the fight for Irish freedom. In the eerily quiet city, the only ambient sound was that of helicopters buzzing overhead, the Head of State of the United Kingdom solemnly laid a wreath and bowed her head. It was a powerful image of understanding and of respect. As I watched I became aware that my cheeks were wet with tears. It was profoundly moving and deeply emotional.
My grandfather fought during the War of Independence and I am very aware, somewhere deep inside my soul, of his bravery and that of other untrained ordinary men and women who pursued an impossible dream and made it real. My generation is the bridge between that past which, to me, seems so reasonably recent and our nation's future. I feel the passion that drove the final push for freedom in an almost tangible sense. It is beyond explanation but it's something that I carry in the very essence of my being.
My children are aware of the history attached to the Irish side of their family, the touch of this knowledge no heavier than the sweep of feathers on their skin. They are secure in their Irishness. Their freedom is a given.
So it was fitting that I was alone as I watched this momentous piece of history unfold today. I wiped my tears and I thought of my grandfather, George Power of the North Cork Battalion of the IRA. This was the culmination of the dream he shared with all those who down through the centuries pushed for Ireland's right to self determination. This was the day was finally Ireland was ready to let go of the victim status and stand tall and equal with our former coloniser. It has taken a long time to get to this place. Many have died along the way.
Let us all remember this day, 17th of May 2011 when it was two women, two mothers who stood side by side and demonstrated so poignantly that one can honour the past while setting our faces most definitely towards the future. What a day.