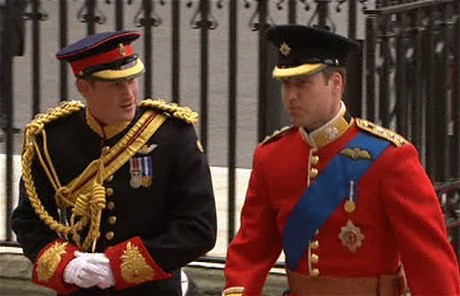 As I had decided to host a Royal Wedding Coffee Morning on Friday, I was running about whipping cream and boiling kettles as guests were arriving at Westminister Abbey. But I did manage to catch what I thought was probably the most poignant moment of the day for me – and that was the arrival of Princes William and Harry.
As the young men they now are, they carry so much of their mother's energy. They have benefited greatly by having such an openly emotionally relationship with their mother, albeit one that was tragically cut short. Walking into the Abbey, William looked nervous, wringing his hands but I am sure that there was no one else he would have preferred to have by his side than his brother. Diana would have been so proud of her beloved boys. And I don't doubt that she would also have heartily approved of William's choice of bride. Unlike his father, William has married for love and not for duty. I just hope that all the love and optimism we saw across the water yesterday augers well for their future together.
If that was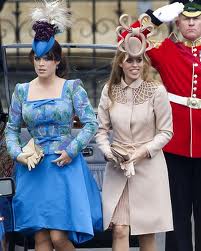 Diana's legacy yesterday what then of her oft partner in crime, The Duchess of York – Sarah Ferguson? Was it her influence that led her two daughters to make such appalling fashion choices? We were all struck dumb in horror as we watched her girls emerge from the car at the Abbey. They were like cartoon characters. Comparisons were made with the sisters in Cinderella. The outfits were bad and the hats showed an appalling lack of taste. These royal sisters painted a stark contrast with the elegance and timelessness of the Middleton girls. Was this Fergie's revenge? Or do Beatrice and Eugenie have no one in their inner circle who tells them the truth? Have they no one to advise them? They are still young and the coverage of their outfits must be hurtful today. Surely this could be avoided.
My favourite moment was later in the day when, led by an Air Sea Rescue Helicopter from his base at RAF Valley in Wales, Prince William took the wheel of his father's magnificent Aston Martin to drive his new wife the short distance to Clarence House. It was class and it was cool.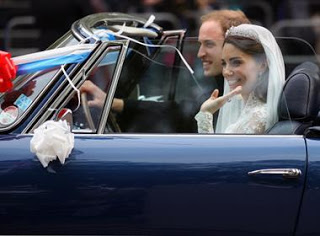 Long life and happiness to them both!
And thanks Great Britain for cheering us all up with such a splendid display of pageantry and ceremony!