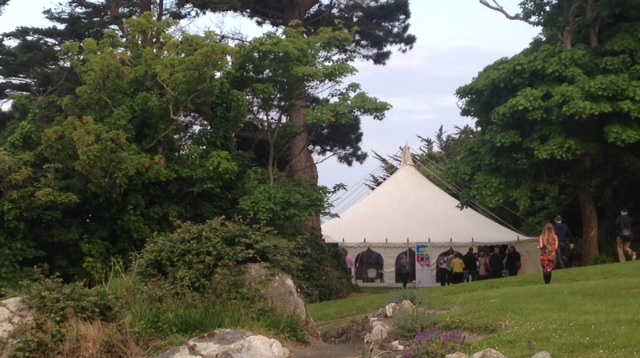 Seaside Marquee – DALKEY BOOK FESTIVAL
In the last few years I have become a right pain in the ass about The Dalkey Book Festival.  "It's great," I enthuse to all and sundry, "brilliant events and the town buzzes with energy and the sun always shines".  Most of those I know who visit will book one or maybe two events.  But me… with my addictive personality… I book way too many and end up tearing about the village from tent to town hall and back again.  I try to build in gaps where I can venture home just so my kids don't think I have actually gone away for the weekend.  Although every year I wonder should I book into the B&B in the village if there is such a thing – and that's another mystery – why isn't there a boutique hotel in Dalkey?  Staying onsite would enable me to not miss a thing… I could completely immerse myself in all the cleverality.  Like the old days back in Dunelles pub in Dun Laoghaire where even if you weren't smoking a joint yourself, you could get high just breathing I could absorb more just by being there.
Dalkey is a perfect location for a festival.  It's small and retains the feel of an Irish village, but it also has lots of great places to eat and drink.  And boy is it scenic.  Even for me, a Dun Laoghaire woman (2ndgeneration, I'll have you know) who misspent much of her youth around Dalkey, the festival allows me to glimpse the location through fresh eyes, especially this year with the addition of the The Seafront Marquee in Dillons Park overlooking Dalkey Island.
But what makes the Dalkey Book Festival so compulsive is that it provides much of what is missing in Irish media today.  A chance to sit and listen to some great speakers discussing big questions, philosophical questions… the kind of stuff that makes you think.  There are great panel sessions too where various topics are debated.  But not debated in the polarised way we have become used to seeing on TV where the extremes are encouraged to contest the issue in sound bites with the facilitator constantly chiding them to hurry up.  Dalkey Book Festival is many ways is reminiscent of the heyday of the Late Late Show.  Long conversations liberally sprinkled with anecdotes and humour.
It is a perfect way to hear your favourite journalists (Fintan O Toole, Olivia O'Leary and Dearbhail McDonald featured this year) as well as writers and thinkers on a wide range of topics.  And that is the key to understanding the Dalkey Book Festival – it's not just about books, it's about much more.  And at its heart are the long philosophical conversations that Irish people love to have on topics that are important to us.  This year there were sessions titled 'Economists, What Are They Good For?', 'New World 2020' and 'The Next Billion'.  My own favourite was 'Who Owns 2016'.  And again, unlike the debates we are normally subjected to in Ireland on radio and TV, there are no winners.  No conclusion – but plenty of food for thought, plenty to mull over for days afterwards.
Oh – and it tends to remarkably free of politicians.  What's not to like?
Well, there is one thing… I would love to see more women on the various stages.  From quick count I did on the adult events (there's a great kids programme too) there are almost double the amount of men on stage than women.  And historians – although I like Diarmuid Ferriter, I sometimes wonder is he our only historian.  I would especially like to hear someone like Mary McAuliffe discussing Ireland's revolutionary decade.  Mary has done lots of interesting work on women's involvement… perhaps that might be something the organising committee would look at next year.
Either way I will be there.  I'm saving already… are you on their mailing list? 
www.dalkeybookfestival.org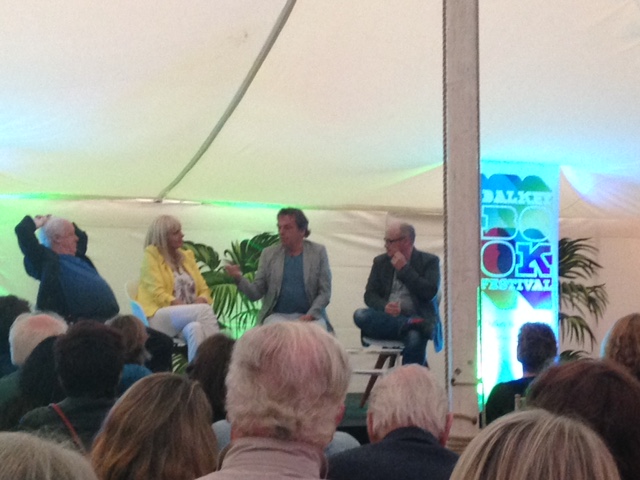 Miriam O Callaghan hosts Irish Directors Talk Books with Jim Sheridan, Neil Jordan and Lenny Abrahamson