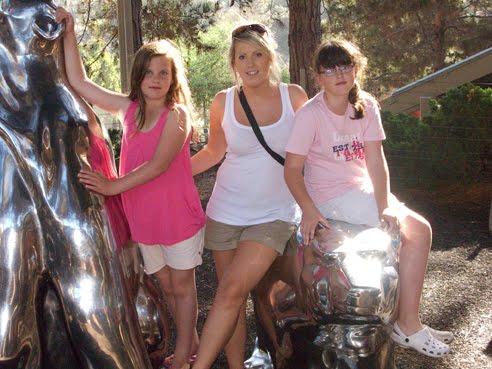 A big shout out to
Mumtalk
who nominated Seeking Serenity for a High 5 Meme. I wasn't too clear as to what a meme was but think I get it and so here is my Top 5 Highlights of 2009.
Ok, in no particular order here goes…..
California Dreamin'
What can I tell you. We couldn't afford it, it was a huge risk going so far for just one week and we incured the total disapproval of teachers for springing the girls out of school for a week. But we listened to our inner wisdom which told us to take a chance. And we did. And it was amazing. And we brought home huge, funny, brightly coloured, noisey memories.
Writing
Finally, I got a bit more serious about writing in 2009. I have taken a creative writing class (and will be continuing this year), I have written (and finished) two short stories, have experimented with poetry (
My WordSongs
), have had an essay published in an Anthology of Irish Writing (The Quiet Corner) and in 2009 I began blogging! And have enjoyed it all.
Basking in Reflected Glory
All my three girls have gifts and talents that are uniquely theirs, whether it's in the retail travel business, or on the GAA pitch or playing music. And each of their achievements, big and small, brought me great joy in 2009.
Stayin' Afloat
Me and him try hard to practice positivity and gratitude every day. But it is through his hard work and consistant marketing and PR that
Paul
has managed to keep us all afloat in these choppy seas. It has not been without its stress but through it all we have managed to get by and stay cheerful. And if we could do it in 2009, we will continue to do so in 2010.
Four Legged Friends
I have always loved and lived with animals. We share our lives with one dog and four cats. They fill my life with hair balls, vets bills, muddy floors, hairy patches on beds and chairs… but I wouldn't be without them. They are a highlight of every year!
So that's it. I hope I haven't been too corny. 2009 was an interesting year. We have learnt lots of lessons.
Now I am passing this meme on to the following….
And so over to you guys – looking forward to reading your high lights of 2009!