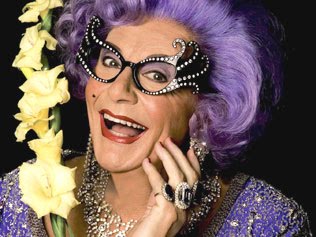 Yesterday I tweeted something reflecting my frustration with the man who may well be our next Taoiseach, Enda Kenny. His reluctance to engage in the leader's debate tomorrow night on TV3 with the bulldog of Irish journalism, Vincent Browne leaves me breathless…. with anger. He is looking to be elected to the most powerful job in the land at a critical time in Irish history and he won't go into a TV studio because he has a problem with Vincent Browne.
Vincent Browne's interviewing tactics can definitely be suspect at times, but he often is reflecting the anger that most of us, the people of Ireland feel at the moment. His late night programme is also now one of the pillars of Irish Current Affairs viewing.
We desperately need to feel that our next leader will have balls of steel and a natural drive to place the good of this country above all else, during their term of office. If the polls are right, we are about to elect Enda Kenny into this office. A man who at best is holding a grudge and at worst is afraid of what Vincent Browne may expose.
Last week this photo of our lea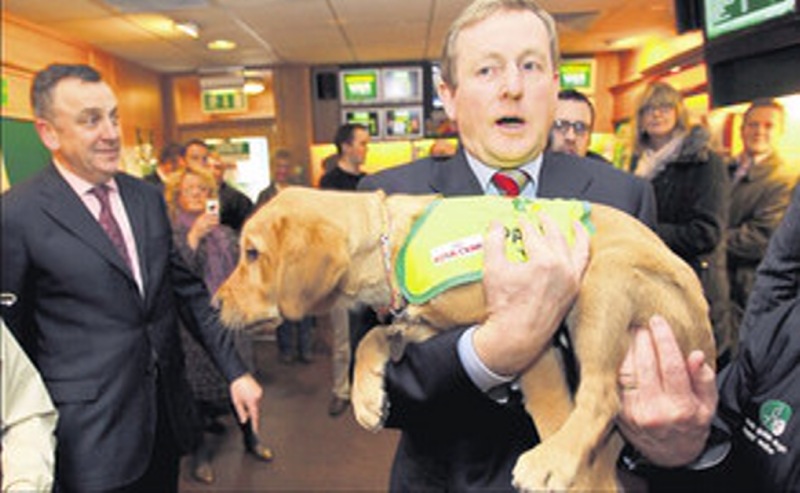 der in waiting appeared in all the national papers. It is a brilliant photo and at first glance gave us all a great laugh. But take a close look at it again. Enda is wearing an expression that is vaguely familiar. Yep, it is one worn by President George Bush. That same unsure, rabbit in headlights, shifty look that Dubya often exhibited. The look that says "I'm about to be found out any minute." It's a look that inspires hilarity not confidence. And I am not going to even begin to analyse the look on the unfortunate dogs face. That dog is capturing the emotion that many of us are feeling… the sense that it all is going wrong and we are powerless to stop it.
I have no doubt that we will entertain the world if Enda becomes Taoiseach. George Bush did provide plenty of laughs. It's all very funny when it's the leader of another country, even leader of the most powerful country in the world. But we are depending on our next Government to lead us back out of this black hole of recession and debt as quickly and painlessly as possible. It therefore it most definitely not at all funny for the electorate.
Which brings me back to Twitter. One of my British twitter friends (@whyjay99 should you wish to follow her), on seeing my Enda tweet enquired if I meant Edna as she had never heard of the name Enda. There followed a lightbulb moment when I glimpsed our future.
That's where we are going I'm telling you. Our next Taoiseach shall be christened Dame Enda Kenny. The man who, like the antipodean character who describes herself as a Superstar Housewife, thinks he's a superstar politican! A misguided man who very possibly will sweep into power on wave of votes the likes Fine Gael haven't seen in years. And he will think it is because we love him. Get your gladioli ready people!
p.s. I should point out that I am not affiliated with any political party! I have yet to decide how I will vote!