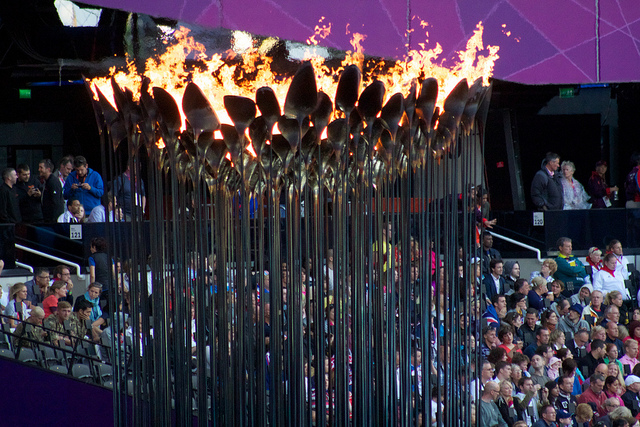 I was dreading the Olympics.  I don't really get sport.  The thought of two weeks of wall to wall competition of all kinds filled me with dread.
The Opening Ceremony cheered me up a lot though and left me a little better disposed towards the events themselves.  I actually found I quite enjoyed watching the track and field competitions.  I particularly liked the Javelin, Discus and Pole Vault – they have a balletic elegance and timelessness about them that appealed to me.   They seem to still carry the energy of ancient Athens.  The sprints and long distance races were exciting.   Mo Farah stands out for his sheer joy at winning his first medal.  His family presented a beautiful tableau as his wife glided majestically like a pregnant Goddess across the track to congratulate him while his young daughter jumped about and waved her flag.  A holy trinity of joy.
Who couldn't but admire Usain Bolt with all his theatrical gestures and wonderful confidence?
Ireland's Olympians did a great job too led by Katie Taylor who Sean Ban Breatnach gushingly elevated to the status of Queen Meabh and Marys McAleese and Robinson.  And sure why not – she is a gracious and wonderful ambassador for us – although I am too much of a wuss to watch boxing and really wish her sporting prowess was in something else.
There was all that joy and good humour but there was also plenty of pain and tears.  Athletes who 'just missed out on gold', who 'only' got a bronze, who 'didn't make the final'.  The interviews these athletes were forced to give as they came to terms with their disappointment made for some very uncomfortable TV.  I heard the words 'failure', 'letting themselves and others down', of 'not being good enough'.  This is where I don't get sport.
Every single competitor at London 2012 is an accomplished athlete… if they weren't they wouldn't be there.  Of course I understand they are driven to win and I accept that.  But I do feel that we don't do enough to celebrate the taking part as the greater aspect of the games.
For me the bravest and most impressive competitor at the games didn't win any medal.  She didn't even come close.  In fact she came last in her 800m race – almost a full lap behind the winner.  Her name is Sarah Attar and she was one of the two female athletes from Saudi Arabia – the first time this country has permitted women to compete.  Wearing a long sleeved top and full leggings and a white hijab, Sarah was running for something just as precious and probably more important than gold or silver.  She was blazing a trail for women and young girls in her home country to follow.  She was cheered all the way home with a standing ovation.  This, for me, is the true spirit of the Olympics.
Call me naive but I truly believe that sport should be about the taking part and not just the winning… in fact I think it's the taking part that should be wildly celebrated.  I have seen the consequences of 'winning at all costs' with young children in schools and it would literally break your heart.  I'm talking about the child who does their best but it's not good enough and they get side-lined all the time.  This is something particularly prevalent in football.  Is it OK in sport to sometimes humiliate a child in this way?  Is it OK for the media to thrust a microphone under the chin of a devastated athlete and ask them 'how they are feeling about not achieving better?'
In my simplistic world if you have done your best well that's just good enough and you deserve nothing but praise and celebration.
The one athlete I saw who totally bucked the trend was young Tom Daley the British diver.  He was tipped as a possible gold medal.  He got bronze and he was thrilled.  His exuberant joyful celebration was in stark contrast to John Joe Nevin who felt he let everyone down by only winning silver.  Good on Tom Daley – what a great role model for doing your best and that being good enough.
London 2012 changed my mind about the Olympics – mainly due to the wonderful atmosphere that was tangible even when just watching on TV.  But it hasn't changed what I think about sport.  I'm sticking to my guns on my belief that it's not about the winning as much as about taking part.  I know – I just don't get sport!