Yesterday while clearing our some old files I found this.  A cutting of the first piece I ever had published in a National Newspaper.  It was from the Sunday Independent in 2002 and is the story of growing up with our Ben. I remember how thrilled I was to have something published.  I shared the cutting on Social Media yesterday and a few people said they would like to read it.
So I found the original copy – some of which now makes me cringe – it's not great in places, however I am reproducing it here as I sent it in.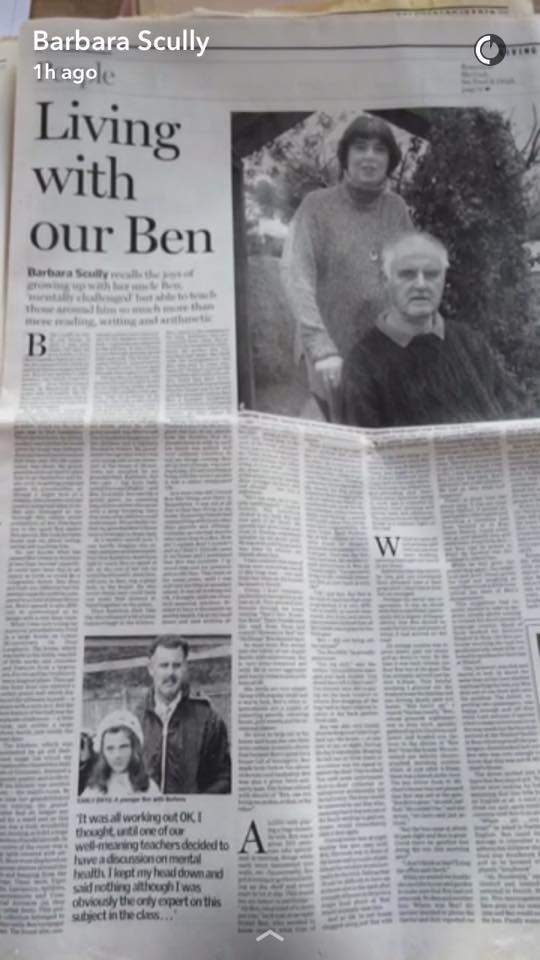 Ben came to live in our house in 1971.  I was nine years old and my grandmother (Ben's mother) had just died.  I am the eldest of four children and had three younger brothers.  Ben is my mother's older brother.  Our family lived in a modest four bedroom house in Blackrock on the south side of Dublin.  My father was a civil servant and at this time my mother was a full time home-maker.
Ben was born 'mentally handicapped' or, as we should say today, with a learning disability.  He had lived all his life at home, which for the most part, was in Dun Laoghaire.  When he was born, my grandmother was told that he would never be in any way independent and would need constant full time care.  His life expectancy was short.  My grandparents were advised to place him in an institution and begin work on getting pregnant again!  My grandmother, although a slight, bird of a woman was a teacher and not used to being told what to do.  She also managed to see through this rather crude evaluation of her firstborn son to the spirit that makes Ben special.  She took her baby home and set about loving, caring and teaching him.
No one knows what has caused Ben's brain to function at less that 'normal' capacity.  It could have been due an injury at birth or could be a congenital defect.  Ben does not look any different but his mental capacity could be compared to a child of about five or six.  Ben's speech is also difficult to understand as he speaks with a very deep voice.
When I was very young, my maternal grandparents lived in a large house on Lower Mounttown in Dun Laoghaire.  The house, which was built in the 1920's was full of little nooks and crannies and features from a bygone era.  For me and my brothers, it was a magical place.  Through the front door, one entered a rather grand hall which featured the ultimate in posh – a stairs with a turn in it!   But the best feature of the hall was the separate cloakroom – a little room, not unlike a large phone booth just inside the front door.  The kitchen, which was dominated by an old fashioned range (on which my grandmother heated her daily pint of Guinness), featured a separate pantry and scullery.  Off the kitchen was another room – the maid's room.  By the time her grandchildren were visiting, my grandmother had no longer any need for a maid and so this room was a truly wonderful place housing as it did a huge collection of model aircraft.  In the centre of the room was a large table covered with aircraft.  More were displayed on numerous shelves around the walls and hanging from the ceilings.  There were World War One Messerschmitts, World War Two Lancaster Bombers and Spitfires and Commercial Airliners (as they were called then).  This precious collection belonged to my other uncle, Ben's younger brother.  The house also contained a piano and a forerunner to the modern conservatory – a greenhouse attached to the kitchen.  It was a house to run through and play great hide and seek.  The house was called Hebron, named before this Israeli town found fame through that region's conflict.
The garden in Hebron was enormous and divided in two by an imposing trellis which crossed the middle of the garden with an archway at its centre.  One side of this trellis was fashioned like a spider's web and was complete with a detachable wooden spider.  In my mother's youth the garden also featured an Air Raid shelter which, when the emergency passed, was filled in, as it was considered dangerous for the children and it regularly flooded in winter.  My grandfather, George, died when I was very young and so my memories of the house in Mounttown are peopled by my grandmother – Kathleen, her cats – big furry balls called Dove and Mighty and Ben.  To a child Ben was like a gentle giant.  An imposing man of over 6 feet who spoke with a deep booming voice that none of us children could understand.
We probably visited my grandmother's house once a fortnight in those days.
As a mother myself now, I can hardly imagine the energy, patience and determination that Kathleen must have had to teach Ben to speak at all.  At the end of her life he could feed himself, dress himself and in fact was a great help in the house.  He also loved music and could bash out notes that seemed to blend together on the piano.
Then Kathleen died.  One day she collapsed with a brain haemorrhage in the kitchen.  Ben called to the neighbours for help.  Kathleen was pronounced dead when she arrived at the hospital by ambulance.  My mother was very shocked and upset.  She dealt with the arrangements and Ben was sent to some relations in Clontarf until all the immediate aftermath of a sudden death had died down.
Kathleen had left instructions that her house was to be sold and the proceeds used to find Ben a suitable residential place in which he could spend the rest of his days.  It fell to my mother, as next oldest to organise this.  Selling the house was easy.  Finding a place for the gentle giant was not.
So my parents took the decision that Ben should move in with us until his future was settled.  And very suddenly (children do not see things coming), Ben, all six foot of boom was coming to stay.  If I said anything at being told this news I am sure it was a rather nonplussed 'Oh'.
As a nine year old, Ben was fine living over there in Mounttown.  It was not at all fine to find Ben living in my house.  None of my friends had anyone living with them other than parents and siblings.  Certainly no-one had anyone who came close to a Ben.  How did I explain Ben?  I couldn't and so I didn't.  Friends came to my house and I pretended that Ben was invisible.  I ignored him and his presence and so did they.  This went on for many years, until I was well into my time at Secondary School.  It was all working out OK I thought, until one of our well meaning teachers decided to have a discussion on mental health.  I kept my head down and said nothing although I was obviously the only expert on this subject in the class – going on the 'one-eyed man being king in the land of the blind' principle.  Then one of my friends piped up "sure Barbara don't you have one of those mad fellas living in your house".  I took my street cred very seriously at this point in my life.  Having three younger brothers was bad enough – this was a nightmare.  "He's not mad, he is mentally handicapped" I replied frostily.  But something clicked in my head.
Ben was now part of the family.  My parents had never come even close to finding somewhere suitable for his gentle spirit.  He was with us for keeps and it was time to educate my friends about him.  I then realised that most of them was somewhat scared of this huge man – who said little but when he did, it could be heard in Howth.
Funny, I don't remember my brothers having this problem at all!  They paraded their friends through the house roaring "that's Ben.  Howareya Ben?"  Their friends took the lead from them and roared "Howareya Ben" too.  "Hellllooo" Ben boomed back.
In most ways Ben melted into the fabric of our chaotic family with relative ease.  Ben is very even tempered and mild.  He is never aggressive and has no behavioural problems at all.  His needs are very simple.  Along with regular meals and a warm bed, Ben's other requirements are a supply of colouring pencils, colouring books, jelly sweets and the occasional jigsaw.  He loves to help out in the house and from day one there were certain domestic chores that became Bens (great for a house full of teenagers).  Ben made beds (before the advent of duvets) and washed up.  Ben was also a great fetch and carry man.  Our house echoed with shouts of "Ben, can you bring me in this, or that, or the other".  Along with playing a huge domestic role, Ben was a great DIY assistant who specialised in holding things while nails were hammered into walls etc.  Occasionally Ben got it wrong or got bored holding up the shelf and would start to let it slip.  This would tax my father in particular – "Ah Ben, what kind of a clown are you" he'd roar at an indifferent Ben, who seemed to know exactly what type of clown he was.  The kind of one who had a free pass straight to heaven!
There is a cog in his brain which misfires and causes Ben to follow instructions to the letter.  He is not equipped with initiative at all.  A classic example of this relates to another of Ben's jobs – bringing out the bins.  In the days before the Wheelie Bin, Ben always helped my father dragging the tons of rubbish our family accumulated each week for the bin collection.  At this time my father went through a period of ill health and so this job became Ben's responsibility.  He never forgot.  Each Wednesday at 8am, millions of black sacks would be dragged around the side passage to the front gate.  Then one day Ben had a bad back.  My mother issued instructions to Ben on Tuesday night – "You are not to bring out the rubbish tomorrow Ben as your back is sore, OK?"  "OK" said Ben.  But Ben is the type of machine that once programmed it is very difficult to modify or cancel commands.  At 8:15 the next morning my mother noticed that all the rubbish was in place by the front gate.  "Ben – did you bring out the rubbish"  "Yes, Ben did it" he proudly announced.  "You big eejit" says the mother "you could have damaged your back further.  You should have left it like I said".  10 minutes later she is gazing out the back window to witness Ben dragging all the bags back to their original location in the back garden.  Great craic!
Ben was also very handy when we forgot our keys to get back into the house – at any time of day or night.  During the day it was simple.  Ringing the bell two or three times in succession was his signal to answer the door.  This worked fine until some unfortunate door-to-door collector or salesperson accidentally hit the bell twice.  The door would be answered by our Ben who on seeing that it was not one of the family seeking to gain entrance, would immediately slam it shut again.  Coming home late at night keyless was also easy with Ben.  His room was in front of the house and a couple of pebbles at the window would normally do the trick.  Failing that (it can be difficult to have an accurate aim in the dark after a couple of hours in the pub) a single loud shout of BEN would normally rise him!
And so life in our house chugged along just fine with Ben on board.  He was very useful to useless teenagers!  Then one day we nearly lost him!
One of the first things my mother discovered when Ben came to stay was St Michael's House.  Ben began to attend one of their sheltered workshops back in the early seventies.  He is now one of their longest attending and their oldest client.  Ben loves 'going to work' and is collected by minibus every morning and arrives back mid afternoon.  The red bus from St Michael's House is a common sight on the road.
When we were all still at home and both my parents were working, morning times got very hectic in our house.  Bathroom time was strictly rota-ed and one overstayed their allocated time at their great peril.  I don't know how but we managed.  Perhaps the secret was co-operation.  It was no doubt with this in mind that I particularly felt a degree of responsibility that Ben should be ready for his bus and aware of when it had arrived on the road.  It's normal routine was to drive slowly past our house and go down to turn.  By the time it was back outside our door Ben was at the gate.  The bus normally arrived just before 8:30am.
This fateful morning I glanced out the window to see the familiar red bus driving slowly past our house.  "Ben hurry up" I roared, "the bus is early."  Ben whose greatest nightmare was to miss work, quickly gathered up his lunchbox and jacket and headed out the door to the shouts of Bye Ben from the house.  We continued our strictly choreographed morning routine when at just after 8:30 there was a knock at the door.  The bus driver from St Michael's house was not pleased that Ben was not at the gate!
"But Ben's gone" we said, baffled.
"He couldn't be" said the driver "we have only just arrived".
"But the bus came at about ten past eight and Ben is gone.  Could there be another bus doing the run this morning also?"
"I don't think so but I'll ring the office and check"
While we waited we double-checked the house and garden to make sure that Ben had not returned.  No Ben and no other bus.
Where was Ben?  My mother decided to phone the Gardai and duly reported our Ben as missing.  We began to get worried.  Could Ben have been kidnapped?  Who would kidnap our Ben?  My father decided to get up on his bike and tour the neighbourhood for clues.  The rest of us were told to go to work or school.  I felt awful.  I was the one who told Ben his bus was early.  But I definitely saw red minibus.  We had no idea what had happened.
Finally at about 11am the phone rang.  It was our local Garda Station.  A person answering Ben's description and clutching a lunchbox had been 'handed in' to Bray Garda Station.  Could someone go and identify him and collect him.  It had to be Ben – but how had he gotten to Bray?  My brother was dispatched to collect him.
While he was gone the phone rang again.  Our neighbour and good friend across the road was laughing so much that it took a while to establish the facts of Ben's disappearance.
This neighbour had recently started to take in students;  mostly adults coming to Ireland for short intensive language courses.  Many of them worked for Siemens Nixdorf in Bray.  On this particular morning she had two gentlemen who were to be collected by minibus for their day at Nixdorf.  One however was sick and stayed in bed.  At about the same time as her lone student was boarding the bus, our Ben shot out of our door and onto the minibus.  The driver, expecting two passengers  was happy enough and off they went.  I am not sure if anyone tried to make conversation on the way south but the bus duly arrived at the Nixdorf facility in Bray whereupon all the passengers disembarked but our Ben who was cute enough to know that this was not St Michael's House.
The driver invited him to leave but Ben stayed put.  The driver went looking for help assuming that this fella had no English at all.  A tutor arrived out and again tried to converse with Ben to no avail.  "Where – are – you – from" he asked in fractured English.  Ben could never manage to remember a full address but did know that we lived near Stradbrook Road and so he boomed triumphantly "Stradbrook".  "Ah Strasbourg" says Mr Nixdorf and immediately switched to French.  Still no joy.  This interrogation must have gone on for some more time and Ben would not leave the bus.  Finally someone arrived who realised that Ben was perhaps a sandwich or two short of a picnic.  And so the Gardai were called in.
Ben was taken back to the Station in the tender care of a female officer who was still entertaining him and drinking tea when my brother arrived.  To this day Ben still recounts this story with great excitement and we have all dined out on the same story for years as, no doubt, have the people at Siemens Nixdorf.
So Ben is now approaching his 71st birthday and is seemingly still going strong.  In all the years I have shared with Ben I have never known him to lose his temper or even say a bad word about anyone.  He is truly a good person and a pure spirit.  Remembering now how I felt when Ben came to live with us when I was 9, I marvel at my kids who all accept Ben as he is but who know that he is different, special.  They talk to him, bring him sweets and engage him in their games regularly.  And Ben, like many of his years, loves the kids and particularly loves it when they go back to their own homes!