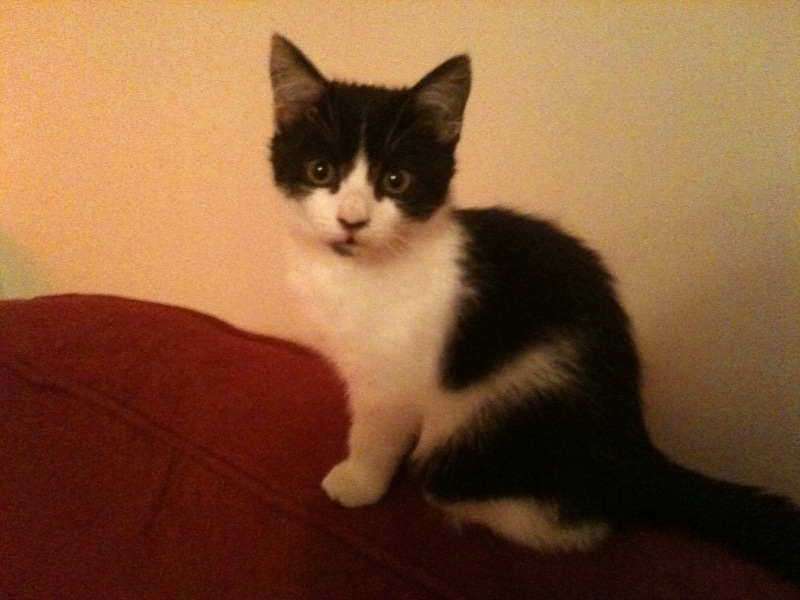 On Saturday we will be packing our Maggie's bags and baggage and dropping her back up to the wonderful people in the DSPCA, from where we hope she will be adopted quickly to her new forever home. Our work is almost done.
As you know from my
previous post
Maggie was one of the wildest and most frightened little cats I have ever encountered. It took us 2 days to coax her out from under our sofa. Then another day or two to get her to start (very gingerly) to play with some feathers on the end of a stick.
It's been one small step at a time and has been a team effort in this house, to finally gain Maggie's trust. We have taught her that humans can be her friends and I hope that none of our species undoes that lesson. We had a secret weapon in our 'taming' of Maggie and that was Simba (fatcat).
I don't want to take from the great credit due to Simba for playing his part but we all know that he was highly motivated by sharing Maggie's dinner which came in jelly and is clearly a lot tastier than the cat biscuits he usually has. But it was amazing to watch Maggie relax almost immediately Simba arrived into the room. Animals never cease to fascinate me.
The first week we had Maggie was difficult. It required huge patience and I did worry that perhaps some cats are just wild and not tameable. But the joy in watching this little scaredy cat slowly make friends with us and learn the joy of being petted and sit on a knee is sublime! Really.
The DSPCA is snowed under in kittens and cats who are looking for homes – permanent and foster. Check out their website www.dspca.ie