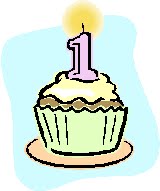 This night exactly one year ago, I was preparing to take my courage in both hands and get the bus into town to attend a seminar which was aimed at promoting Women On Air. The bus wasn't that scary in the end – in fact I think bus ceilings have gotten higher making them far safer for me. I distinctly remember in the 80s I used hit my head off the roof regularly. But I digress. As I approached the National Library, the voice in my head was going great guns with really helpful stuff like "what the hell are you doing?", "you'll know no one", "are you going to announce to all these smart career women that you are a suburban housewife with delusions of being a writer?" and finally "go home you big eejit."
But one foot kept placing itself in front of the other and so I landed into the lecture room trying my best to blend in with the background. As I took a seat I found one friendly face – Eleanor Fitzsimons – a real journalist and writer and someone I had met just once before. To this day Eleanor remains one of the best women I know and that's not just because she gifted me a little bit of credibility on that day last year.
As I listened to the great presentations by Helen O'Rahilly and Helen Shaw, the little voice in my head was still asking, "why are you here?" The honest answer was that I was not entirely sure. All I was sure about was that I love radio.
Before I reached the dizzy heights of being a housewife, I worked for a national charity as their Public Relations Officer. In that capacity I had done interviews on Morning Ireland, Today with Pat Kenny and (God Bless Him) Gerry Ryan. On retirement to the world of domestic goddessship I occasionally emailed programmes with views and had done phone interviews with Marion Finucane and Gerry again. I had recorded some pieces for Sunday Miscellany and Lyric FM. In the months immediately before that first Women On Air gig, I had begun doing occasional panel pieces with East Coast FM in Wicklow. All of that experience qualifies me as nothing other than an opinionated woman, albeit one with plenty of life experience. It also confirmed the fact that I love radio… but still I felt very much a fraud sitting with all these career women and very experienced journalists.
The effervescent Margaret E Ward, founder of Women On Air didn't seem to think I was a dinosaur or "big eejit" and neither radio producer Helen McCormack who I also met that night. In fact Helen asked if I would come in to be a contributor on the Tom McGurk programme which she produced on 4FM.
I floated home that night last year. Not only had I enjoyed the event, especially the networking afterwards, but I had been accepted, as me! And that is what is special about Women On Air. Along with presentations by industry experts and leaders, it is a supportive and encouraging forum encouraging any women who wish it, to find their special voices. I am passionate in my belief that we need to hear more women on air. We need to put more broads into broadcasting! More importantly we need to hear from women from all walks of life, all backgrounds, all qualifications and from all kinds of kitchen tables.
I still love radio, have done some more work with 4FM, am a regular on East Coast FM's Morning Show and still contribute to Sunday Miscellany. I am also now on the organising committee for Women On Air (you gotta give something back). So if like me, you are wondering about radio, get up and get involved. Leave a comment and I will make sure your details are on the mailing list for future events.
In the meantime – Margaret E Ward – take a bow for a great idea. We've only just begun.
HAPPY BIRTHDAY WOMEN ON AIR!