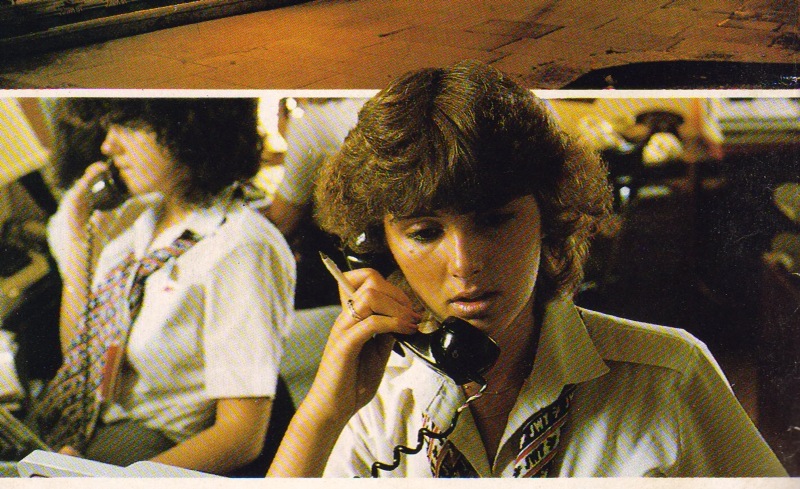 It was a cold Monday morning, the 3rd of December 1979 when I arrived at 8/11 Lower Baggot Street, Dublin for my first day at my first ever real job. I clumped up the stairs in my brand new tan cowboy boots to the 3rd floor where I was asked to take a seat in the cramped reception area. As I sat down the tiny bells attached to my new peasant dress made a little tinkling sound.
Within a few minutes I was joined by another new recruit. This girl had clearly read up on how to dress for your first day at work. Attired in a neat and conservative suit, she carried a proper handbag and removed her gloves to elegantly introduce herself. So there we were – the hippy from Dun Laoghaire and the elegant old school country girl – about to join the JWT set. If there was the sound of muffled giggling at the sight we must have presented, in our excitement we never heard it.
One of the very first things we were told on that baffling day was that on Friday we would be decamping with the rest of the company for a weekend in Kenmare for the annual JWT Staff Conference. "Saturday is Gala Night, a chance to really dress up" the sales manager announced, his eyes firmly fixed in my direction.
That first week passed in a blur of introductions, tours of the sales offices, being fitted for a uniform and the beginning of our training in the art of selling holidays. It ended in Kenmare where myself and the other new girl disgraced ourselves by sleeping it out on the last day thereby delaying the coaches to Killarney and nearly causing the entire company to miss the train to Dublin. We arrived back having learned more in that one weekend that certainly I had in the previous 17 years and with sore throats and no voices.
JWT was founded in 1961 by Joe Walsh, a tough straight talking Northerner who began by first operating pilgrimages to Lourdes. As we rolled into the 80s, JWT was Ireland's leading tour operator offering holidays to a wide range of resorts in Spain, Greece, Portugal and Italy. The company operated the first computerised holiday reservation system in Ireland (and possibly the UK) and had some very cool TV ads.
It was a young company – most of the management would have been in their early 30s at most. Joe Walsh for all his rather terrifying persona and the fact that he had no time for Trade Unions, believed very much in keeping staff morale high. He achieved this not by paying us bonuses or top wages, but by laying on plenty of entertainment and social events – and this remember was in the days before corporate 'team building' or 'away days'.
There were mid season parties, Christmas parties, the aforementioned conference and departmental get togethers. And then there were the weekends in perhaps Majorca or Gran Canaria – sometimes disguised as 'educational trips' and sometimes just because we had free seats going out and perhaps a 'light leg' or empty aircraft coming home. Oh, the heady fun of it all. Joining the JWT set was not for the faint hearted.
After a year or so on the sales counters, mainly in the office on Grafton Street, I moved up to Head Office to work in Reservations. Here, along with 9 other colleagues we manned a bank of phone lines and dealt with queries from both the public and travel agents. As Ireland sank into a recession, the reservations department took on the guise of an African Souk with much wheeling and dealing to "get bums on seats" for that weekend's departures.
From October till Christmas, the business was dead and the office quiet with many staff taking advantage of 'winter leave' when good ole Joe encouraged us to head off to foreign shores on some unpaid leave, but in the confidence that our jobs would be waiting for us on our return in January.
The new season's brochure was always launched just prior to Christmas and the first airing of the new TV ad was generally on St Stephen's Day. We hit the phones full pelt in January and so the years turned and rolled on, one into another.
They were happy and very carefree years where friendships were made, some of which have survived and thrived to the present day. Some faded in and out over the years and some vanished without trace.
This year JWT celebrates its 50th anniversary. To mark the occasion there is a staff reunion on the 30th of September. A chance to renew some old friendships, share stories and laugh at ancient memories. Like the dreaded school reunion, there is an element of fear that time will not have been as kind to me as to others. But I am burying that fear deep within my psyche and from the same depths I am retrieving my younger self. It will be her that I will bring to this auspicious event. She may even wear a new hippie dress with bells on. I just hope my former colleagues recognise her!
The JWT Reunion is on Facebook – click here