Fostering kittens for the DSPCA is always interesting but the kitten we took delivery of on last Wednesday has a particularly special story.
Last Monday (13th August), a woman left Edenderry, Co Offaly and drove (without stopping) to Dublin.  On arrival and when she got out of her car she was very surprised to hear a cat's cries seeming to come from inside the engine.  She lifted the bonnet and sure enough there was a white and black, quite terrified kitten looking back at her.  The kitten had hung on and survived the journey the entire way.  Thankfully the driver contacted the DSPCA who took the kitten back to their HQ in Rathfarnham where they checked him out.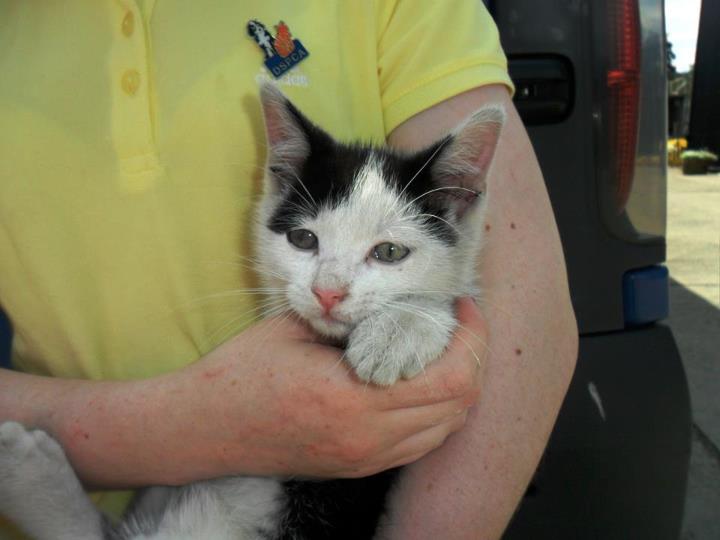 This is Scooter when he arrived at the DSPCA after his epic journey in a car engine
Miraculously the three month old kitty survived without injury.  When we met him on Wednesday, he was still a bit dishevelled and grimy looking.  We took him home for some rest and recuperation.
Although the DSPCA had called him Eden, he was immediately rechristened Scooter in our house and we think this name suits him perfectly. He didn't take too long to relax and soon was relishing the comforts of a cosy blanket and a safe place to sleep. In the last few days he is regaining his looks as he grooms away the dirt and grime from his engine journey.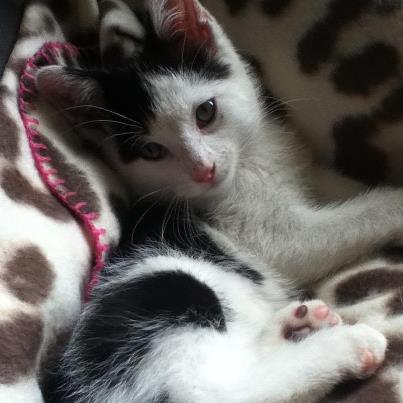 Scooter brings with him such a great story of survival, of the kindness of strangers and of hope in the face of the seemingly insurmountable odds.  And the amazing thing is that he seems to know how lucky he is and he is so grateful for a second chance.  He is the most affectionate cat you could meet.
We are due to return him to the DSPCA for rehoming on Friday!  Mmmmmmm… I think this is one kitty foster we may just fail on!
Kittens and adult cats can have a dangerous habit of climbing onto car engines because they (foolishly) consider them warm and safe places to sleep.  Most cats would not be as lucky as Scooter was.  If you have cats in the vicinity of where your car is parked it is a good habit just to bang the bonnet with your hand before you get into the car.  This should help dislodge a sleeping cat.  Cats in car engines can be a particular habit of farmyard cats!