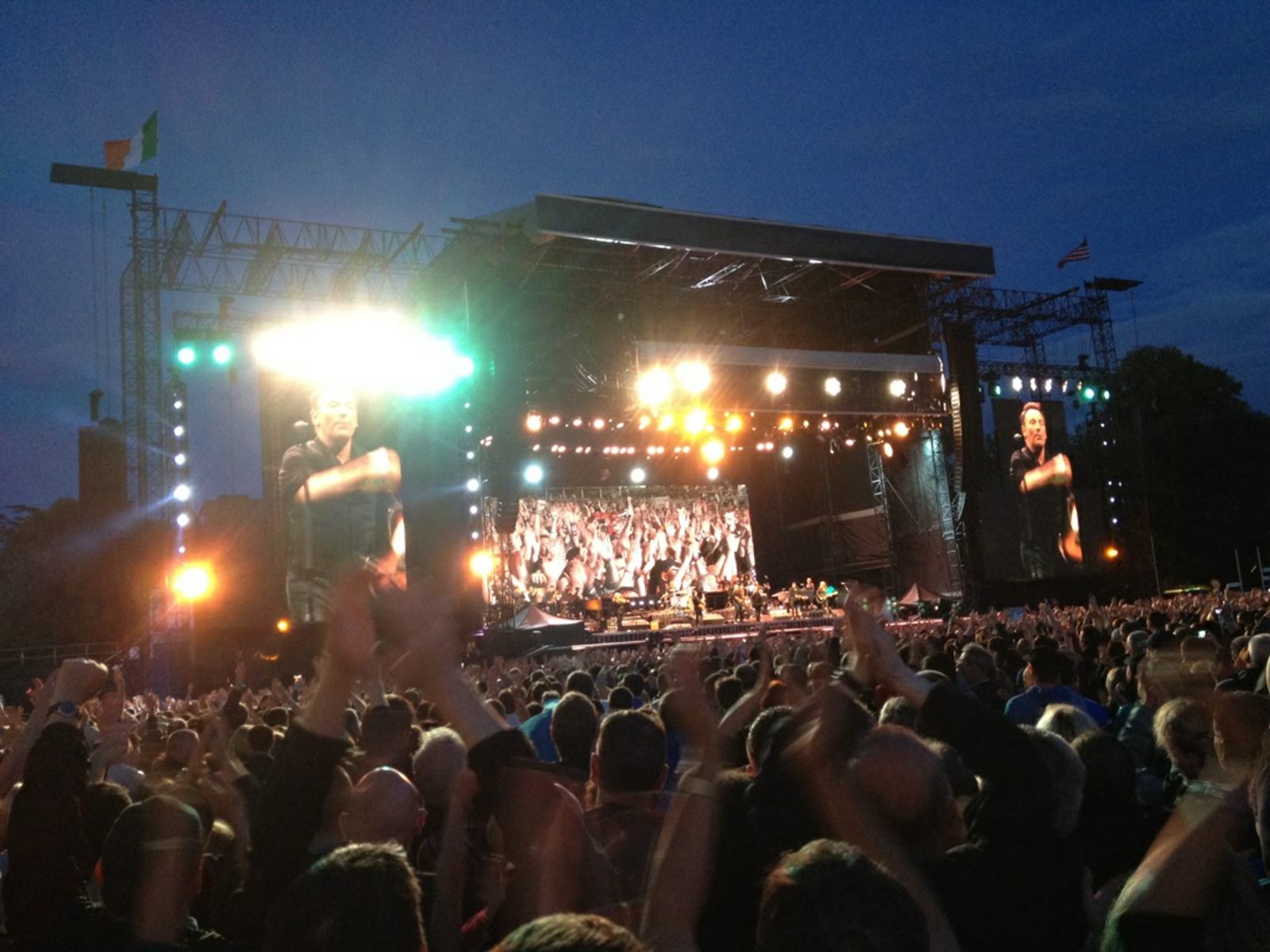 I am no expert but there are a couple of things I believe about music.  Firstly is that nothing is quite as evocative… aromas come close.. but music can bring you, body and soul to another place in a very complete way.  Secondly I believe that our musical tastes are formed when we are teenagers.. and the music you love then, as a young adult will remain forever the music that moves you, that touches your very core like no other ever will.  Sure as you get older you may develop an appreciation for classical or some other genre… but the music that you listened to in your formative years will forever be a part of you.
Arriving into the RDS last Wednesday I recognised myself in other middle aged women who dressed in the timeless uniform of jeans and tee shirts, their saggy middle bits and life worn faces seeming to lift as they prepared to be transported backwards in time.  As I munched on a spring roll I tried to ignore the damp patch on my shoulders where my rain jacket failed in its waterproofing.  I was slightly soggy but delighted to be inhaling the excitement and anticipation that was palpable.
On the pitch we stood making some small talk with those around us, afraid to drink our water as neither of us wanted to have to use the facilities.  It rained some more and once again like good teenagers we did our best to ignore the discomfort of water dripping down our necks.
Slowly the sky started to brighten.  A patch of blue appeared.  A watery sun was doing its best in the western sky and we divested ourselves of our jackets and tied them around what once was a waist.  The lights on the stage were being tested.
Moments later, without fanfare or fireworks, Springsteen appeared and that gravelly voice, so deeply familiar was filling the arena, accompanied only by his guitar and harmonica.  So it began – almost three and a half hours of a non stop, solid rock music masterpiece, enhanced by flashes of folk and gospel.   Overhead the clouds continued to melt and the sky became almost translucent.  A silent aircraft tore a vapour trail eastwards and seagulls seemed to wheel on the notes bouncing in the warm air.
The Springsteen themes of the working man, hard times and the struggle of life seemed particularly poignant at times as the night carried his music high into the sky in Dublin 4.  Spingsteen as preacher encouraged us all to recall those we missed and who were no longer with us.  An almost transcendent moment for me as I stood in the fading light on what would have been my brothers 48th birthday had he not chosen to leave it some 16 years ago.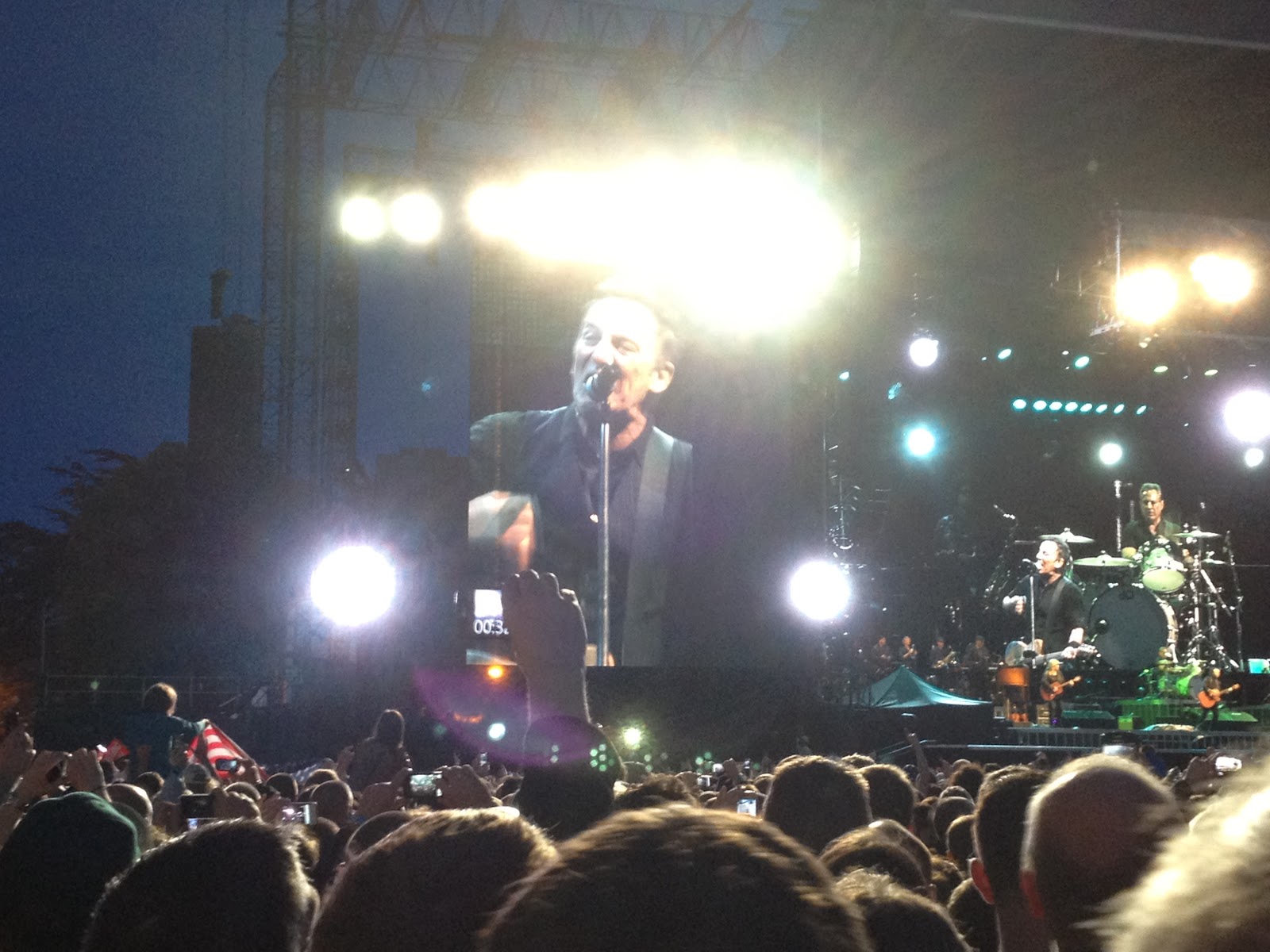 There is an authenticity about Springsteen's music which is only matched by his pure unadulterated joy in performing.  His smile filled the RDS time and time again on the big screen and more than once I found myself grinning back at him.. forgetting that I was not alone in the arena.
As the light seeped away we danced and sang the oldies, Born in the USA, Glory Days, Born to Run and of course The River.  I was 20 again…  and it was magic.
As I shuffled off the pitch at 11pm, my aching back and sore feet complained that 5 hours of standing was something I probably should have gone into training for.  But boy was it worth it.  And somewhere above the music I am sure my brother did too!
WITH THANKS TO IRENE WINTERS FOR THE TICKETS!!!