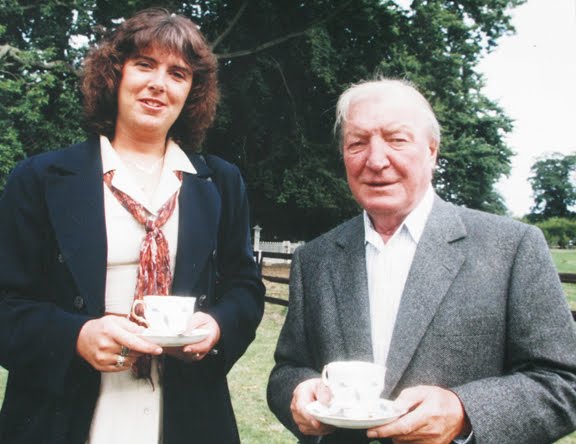 In my previous post, I mentioned some of the 'celebrities' I have had tea with. This tea drinking was not as random as it might have sounded. I spent 9 years working for the Alzheimer Society of Ireland where I had responsibility for both fundraising and PR. One of my first tasks when I began working with the then fledgling society was to set up a National Fundraising Day. So National Tea Day was born and in the course of the following years I got to drink tea with a cast of characters as diverse as Dustin the Turkey and Meave Binchey.
But few can compare with my taking tea with The Boss on the lawn of his little pad in Kinsealy in North Co Dublin. In order to understand just how big an event this was, you should know that my dear ole dad was a former classmate of the man he called Cathal. And although my Dad was the straightest and most honest man ever he always held Cathal (who was anything but) in great esteem. So the day I announced that I was doing a photocall with the Great Man (who had retired at this time)was to my dad, the crowning moment of my career.
For Tea Day one of our corporate sponsors, Toyota Ireland, loaned us a small 4×4 which we had covered with decals of tea pots and tea cups for added publicity. It attracted a lot of attention and yours truly got to drive it for the three months leading up to the big day as I visited each branch of the Society all over the country.
So the morning of the big photocall dawned and off I headed in the Teamobile to Abbeyville. I arrived ahead of the press and parked slightly to one side of the front door. CJ's secretary arrived and we set up our tea party on the lawn. The press arrived and we all waited. Finally the door of the house opened and Charlie Haughey strode across the lawn towards us. Thinking back on it now, I am reminded of the scene in Fr Ted when Ted is trying to explain perspective to Dougal, using a model cow and cows in a field. "This one is small," he says exasperated "and those ones are far away." Mr Haughey was small far away and still small when he arrived beside me. Not that that fact took in any way from his aura of power and slightly Mafia like charisma.
I poured tea and concentrated hard on not scalding The Boss and the snappers snapped away. I have to say that Charlie was generous and very accommodating. When we were done, he turned to leave and I accompanied him back across the lawn, gushing about how grateful the Society was to him for his time and his support He said little but then squinted into the distance and said (in the classic Scrap Saturday voice) "who owns that eyesore parked at my front door?"
I was immediately panic stricken. Had I committed some massive faux pas, parking so close to his front door.
"Oh, I do, Mr Haughey. Well I don't own it, Toyota do. They loaned it to us for Tea Day. It's great for added publicity," I gabbled adding "it's their new RAV4," assuming most men like discussing makes and model numbers.
He clearly couldn't have cared less.
"Grand little car for a woman I suppose" was all he said as he strode on his shortish legs back to his grand mansion.
I was grinning at this brilliant quote he had gifted me as I folded my 6 foot frame back into my "grand little car for a woman."
It was pure Charlie Haughey and had me giggling all the way back southside to report it all to my dad.