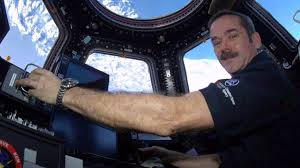 I am not a big fan of science fiction.  I don't like Dr Who or Star Trek.  I don't understand black holes and the concept of a huge infinite universe melts my brain completely.
But a fiery sunset can take my breath away.  A rising creamy moon spills magic onto my world.  There is little quite as beautiful as a shimmering tent of stars overhead on a dark night.  These things speak to my soul.  They tell of wonders that exist just beyond my understanding and comprehension.  They never fail to move me and remind me that there is so much beyond this world; that our journey is far more than we can see or feel or touch.
On the 20th of July 1969 Neil Armstrong took his 'giant leap for mankind' onto the surface of the moon.  For decades it seemed to me that this was the pinnacle of man's achievement in space.  Nothing has ever come near to wonder of that first space walk.
Sure, I am aware of probes to Mars and the fact that we have a Space Station hurtling around us where all kinds of experiments are carried out.  My twitter feed for the last few years has occasionally told me about ISS passes and what time it might be visible over Dublin.  I think I saw it just once.  It was not much more exciting that knowing the aircraft overhead is a Turkish Airlines flight from Istanbul to New York.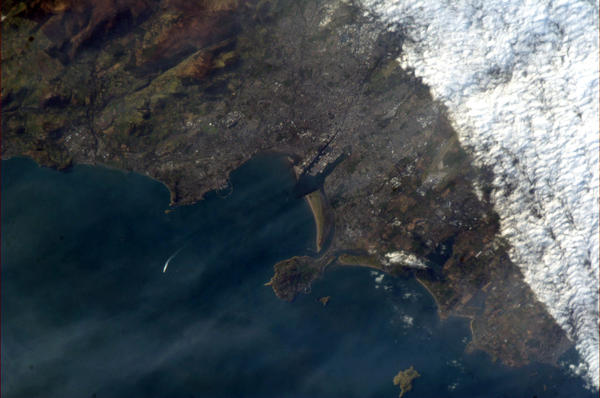 Then on the 5
th
of January a tweet appeared in my Twitter timeline with this photo.  The caption read
Tonight's Finale: I'm not quite sure! Ireland, Wales or England, through a gap in the cloud. Where is this port town?
The tweet had originated on the ISS and was sent by a Commander Chris Hadfield.  Commander Hadfield had found Dublin and Ireland was just beginning to find Commander Hadfield.  More stunning images followed including the one below of the moon setting over the Earth.
Who knew Canada had astronauts?  But they do and to borrow a line from a famous ad… If  *insert beer name* did astronauts, they would do Chris Hadfield.
Commander Hadfield is exactly what I thought an astronaut wouldn't be.  He is creative.  His photographs show a remarkable eye for composition and the words he chooses to accompany these pictures are beautifully crafted and carefully chosen.  But more than that, as I quickly discovered, Chris Hadfield is an accomplished musician. 
In February he posted a video of his accompanying a children's choir from Canada, singing a song called "Is Somebody Singing" … you just have to listen to the words…. It captures beautifully the magic of looking at our world from 240 miles above in space. 
http://www.youtube.com/watch?v=AvAnfi8WpVE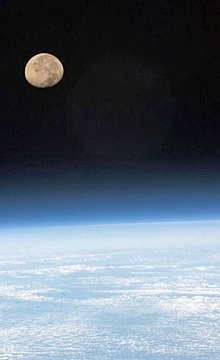 I was hooked.  Hadfield posted photos of cities and towns and landscapes, as we had never seen them before.  We saw amazing weather patterns and sometimes con trails from aircraft far below. And we saw moon rises like never before.
On the 18
th
of February he posted a magnificent night time shot of our capital city with the words
Tá Éire fíorálainn! Land of green hills and dark beer. With capital Dublin glowing in the Irish night
.
  And an entire nation fell in love.  Irish in space – imagine that.
He sang Danny Boy for St Patricks Day, he made videos explaining life without gravity but most of all he captured the magic and wonder of our little blue planet.  He showed us a little of what he could see from his 'tin can in space'. 
There have been many nights in the last six months when I have gazed skywards.  I could have been putting something in the bin, or locking the car or calling in the cat and I have smiled, knowing that up above my head somewhere was the charismatic Canadian with a guitar.  An astronaut with the heart of a poet and the soul of sage. 
Commander Hadfield, a man of science, sees the wonder and the magic of our universe and of our planet.  But more than that, he knows exactly how to capture it for us so we can get a taste of the magic, the beauty, the wonder back here on earth. 
I would dearly love to have five minutes some day to interview him.  To hear him speak of this wonder, to hear if it has changed him, to know how it feels to see life from 250 miles above this little blue planet….  And to know what he is going to do next….
Thank you Chris for sharing… it's been wonderful.