NOON – 24th November – THANK YOU DAY
The winner of the Thank You Book is Alison Wells!
Congratulations Alison…
And HUGE THANK YOU to the Irish Hospice Foundation for the prize and for the wonderful concept of THANK YOU DAY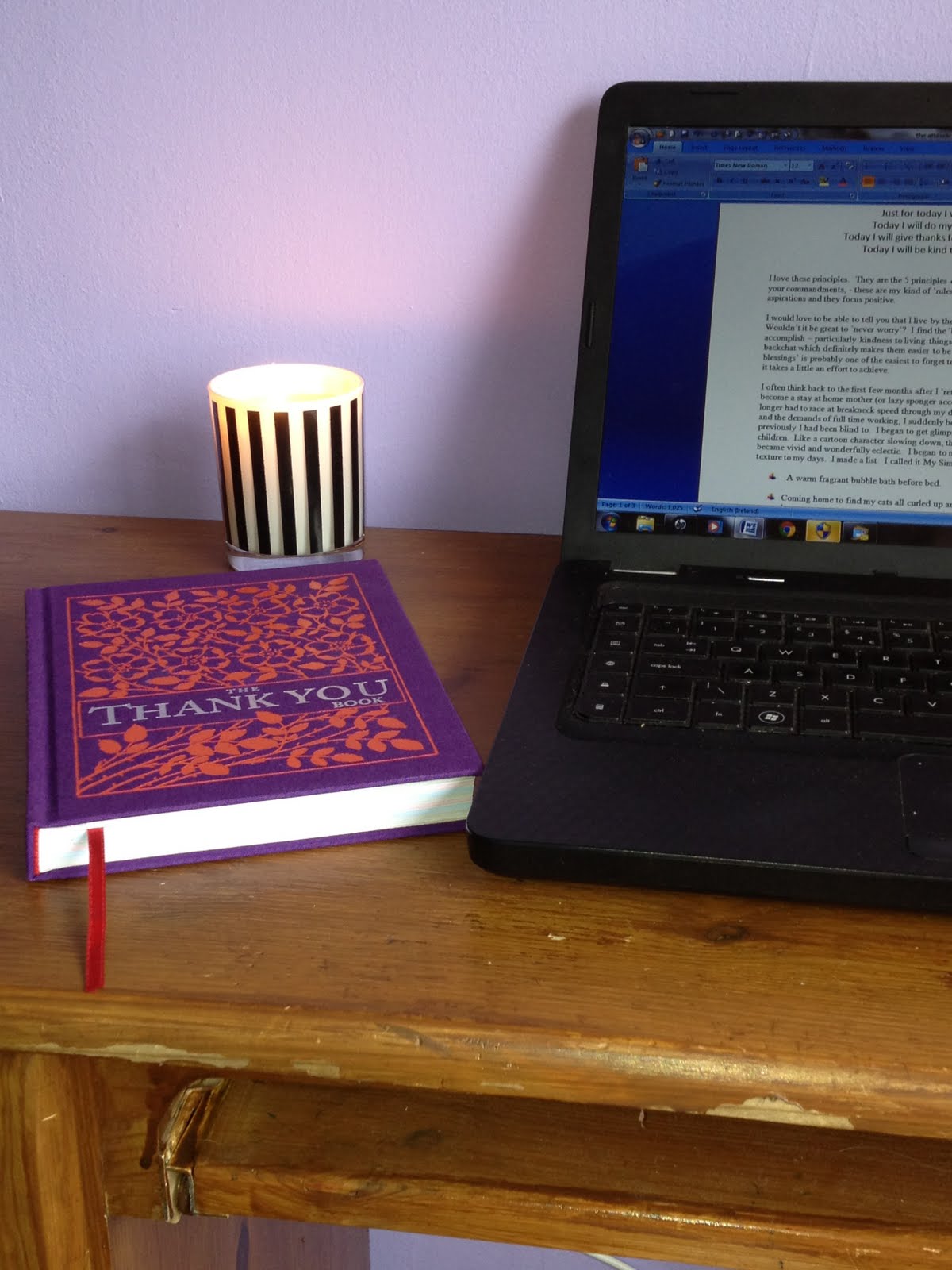 Just for today I will not worry
Just for today I will not anger
Today I will do my work honestly
Today I will give thanks for my many blessings
Today I will be kind to all living things
I love these principles. They are the 5 principles of the healing art of Reiki. You can keep your commandments, – these are my kind of 'rules' mainly because they are not rules but aspirations and they focus on the positive.
I would love to be able to tell you that I live by these tenets. I do try. I usually fail. Wouldn't it be great to 'never worry'? I find the 'being kind of living things' the easiest to accomplish – particularly kindness to living things with four legs – they tend not to give backchat which definitely makes them easier to be kind to! 'Giving thanks for my many blessings' is probably one of the easiest to forget to do regularly and although it sounds easy, it takes a little an effort to achieve.
I often think back to the first few months after I 'retired' from the world of full time work to become a stay at home mother (or lazy sponger according to Emer O Kelly). When I no longer had to race at breakneck speed through my days, juggling childcare, domestic chores and the demands of full time working, I suddenly began to notice the small things that previously I had been blind to. I began to get glimpses of the world through the eyes of my children. Like a cartoon character slowing down, the background of my life suddenly became vivid and wonderfully eclectic. I began to notice the small things that lent colour and texture to my days. I made a list. I called it My Simple Pleasures.
A warm fragrant bubble bath before bed.
Coming home to find my cats all curled up and content in various corners of the house.
The silence that slowly envelopes the house, as humans and animals take to sleep.
Fresh bed linen.
A walk in the rain
Watching the birds feed from the feeders hanging from the tree just outside the window.
The smell of baking.
The taste of chocolate cake about 20 minutes after it comes out of the oven.
The comfort of knowing that everyone is in on a stormy winter night.
The chatter of family conversation over Sunday roast.
Seeing a washing line full of washing on a bright and breezy day.
Coming across a squirrel while on a walk in the park.
A warm sunny summer afternoon spent reading in the garden.
Our postmen – who seem to always be cheerful.
Going for a walk and realising that Ireland

is still a country where strangers often smile and say hello as they pass by.

Fridays – no homework, no cooking and no school lunches till Monday.
Coffee and a scone at the kitchen table, while reading the paper, having completed the weekly marathon of grocery shopping.
How beautiful my garden looks on a frosty bright winter morning.
A sunrise walk on Dun Laoghaire Pier.
Listening to my kids deep in childish conversation, oblivious to my presence.
If I am having a bad day or am just feeling down, I sometimes take out this list and remind myself of these little things that make life worthwhile. I am determined to never again be so harried that I miss the beauty and simple pleasures that are all around.
The Hospice Foundation has cottoned on to this 'attitude of gratitude'. They say that "gratitude is good for you" and that there is scientific evidence to back this up. So, in their wisdom they have designated next Thursday 24th November as National Thank You Day and to help us to practice gratitude in our day to day lives, they have produced a Thank You Book.
This book is a journal, full of blank pages in which to record your own gratitude, your thankfulness for the things which make you smile, which lift your spirits, which make your life good. To help you get started there is a wise and gentle forward written by Roisin Ingle and the first few pages feature simple messages of gratitude from some well known personalities.
The nice people at The Hospice Foundation kindly sent me a Thank You Book so I could test drive a daily practice of gratitude. "Piece of cake", I thought, "I've done Reiki don'tchya know, I know all about this gratitude stuff." Well two weeks in, let me tell you it's not quite as easy as it might seem.
I began by placing my lovely Thank You book on my bedside table in order to record my gratitude for good things that happened at the end of the day. But one week in, I found that I kept recording variations of the same thing. "Today I am grateful for my warm, cosy bed." "Thank you for the gift of a good night's sleep." Then there were a few nights when I was so tired getting into bed that I just couldn't manage to record anything. So I have now taken my Thank You Book and placed it on my desk. The idea being that first thing in the morning before I turn on my laptop, I take my journal and I record a simple pleasure.
They say it takes 21 days to make or break a habit so I guess I am starting again now. So I hereby undertake for the next 21 days I will write down at least one thing every morning. After that it should be a walk in the park! And hopefully I will have shifted some gear in my brain which will cause me to look at life, most of the time, with a 'glass half full' mentality. Ohhh I wish that didn't remind me of chocolate! But there you go – my entry for today. "Thank you for chocolate – especially Green & Black's Mint Chocolate." Gosh – I hope I am doing this right!
If you want to experiment with the 'attitude of gratitude' – believe me it really does make a difference – check out www.thankyouday.ie
STOP PRESS: To mark Thank You Day the Irish Hospice Foundation have given me another copy of The Thank You Book to give away from My Kitchen Table. To be in with a chance to win this gorgeous book which will kick start your own gratitude habit, just leave me a comment. A winner will be chosen on Thank You Day which is 24th November. Good Luck!