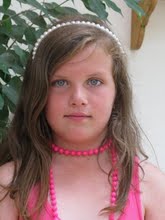 We had an interesting week and had a few heroes – each for very different reasons.
I will start with the greatest hero last week – who was my baby Mia (9). Mia's top front left tooth was a no show which has been monitored by the Orthodontist for the last few months. It's refusal to budge at all, in the direction of her mouth to take its rightful place alongside its partner meant that Mia had to have a little 'procedure' done last Thursday in the very cute and charming Clane Hospital (Kildare). This 'little procedure' involved a slit in her gum to open 'a flap', some bone being dislodged (as it was in the way), a gold chain being attached to errant tooth and everything stitched back up again. The chain will now be attached to some kind of bracket which will be fitted to one of her teeth and be tightened regularly to coax the tooth down into place! Are you still with me here? Anyway – go to Mia's blog to read her account. From it you will see that Mia was very matter of fact in her approach to this adventure and was very dignified and calm throughout. She gets my award for Hero of Our House this week!
But there is a very worthy runner up as second place goes to Roisin (11). Regular readers will already know that Roisin is a keen GAA player. She plays for Foxrock Cabinteely U11's A Team. A dedicated and very talented bunch of young women! Roisin is very conscientious about training and always trys her best on the field. Saturday last was a blustery, squally day and we were at a pitch just off the seafront in Clontarf (it was really and truly freezing) for the Championship Final. Roisin was took her place a little into the second half and scored a point. Delight all around. There were some lovely goals and great play by all the girls. The team won fairly conclusively although they had very worthy opposition in Kilmacud Crokes. To crown the day for Roisin, in the (temporary) absence of the Team Captain, she was asked to collect the cup and make a little speech. I almost melted with pride and delight. So well done Roisin and all the girls of FoxCab!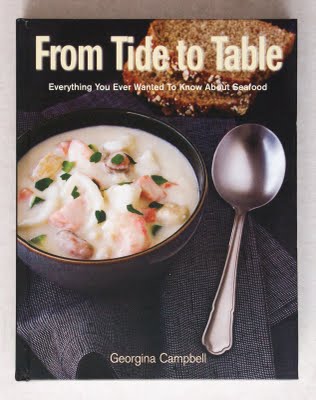 Finally, the only male in the house also had a glory moment. From Tide To Table, a comprehensive Fish Cookery Book by Georgina Campbell has just been awarded the Bord Bia Irish Food Book of The Year. And himself did the photography. Check out his blog here for more information. He is very delighted and once again we are all proud!
Carla, and I will no doubt be heroes another week! And I will be sure to let you all know about that. Our role this week was in support and we were glad to do it!
Have you had a Hero moment recently?