It was Coco Chanel who said that a woman who cuts her hair is about to change her life.  This may or may not be true.  But what is very true is that a woman's relationship with her hair goes way beyond the obvious.  It is a deeply intense bond that proclaims something to the world about the woman's inner life.
I remember well my first proper hairstyle.  The first time I ever went to a hair stylist.  I think I was about ten.  Before this my dear mother, who is gifted in many things but not hairdressing, used to give me the classic pudding bowl cut complete with wonky fringe that was de rigour for children in Ireland in the 1970s.  So it was a big deal to be given the two pence ha'penny or whatever it was to take myself off to the local hairdressers for a proper hairstyle.  A bob. A heavy fringe and curtain of beautifully styled hair with a turn under for added bounce.  I was gorgeous.  I didn't just think I was gorgeous I FELT gorgeous.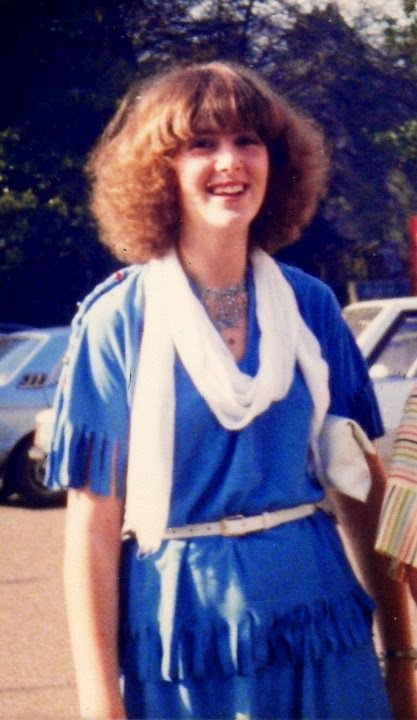 The early 80's ushered in the era of the perm.  I achieved my own unique version of the poodle, with a straight hair on the top of my head (because I was – and still am – very tall) and full curly sides.  This look involved spending hours with foul smelling stuff on my head (it did actually make my eyes water) in a trendy salon on Baggot St.  I knew it was trendy because Gillian Bowler, who was then selling sexy holidays to Greece was also a regular client – although she never went for a perm as far as I know!  Her long, luscious locks cascaded around her face from the permanent sunglasses perched on her head, winter and summer.
By the end of that decade I was a single parent and decided I required a kind of 'don't fuck with me' hairstyle which was a short back and sides.  I hoped it would make me look like a strong woman.  In reality I looked like a lanky boy.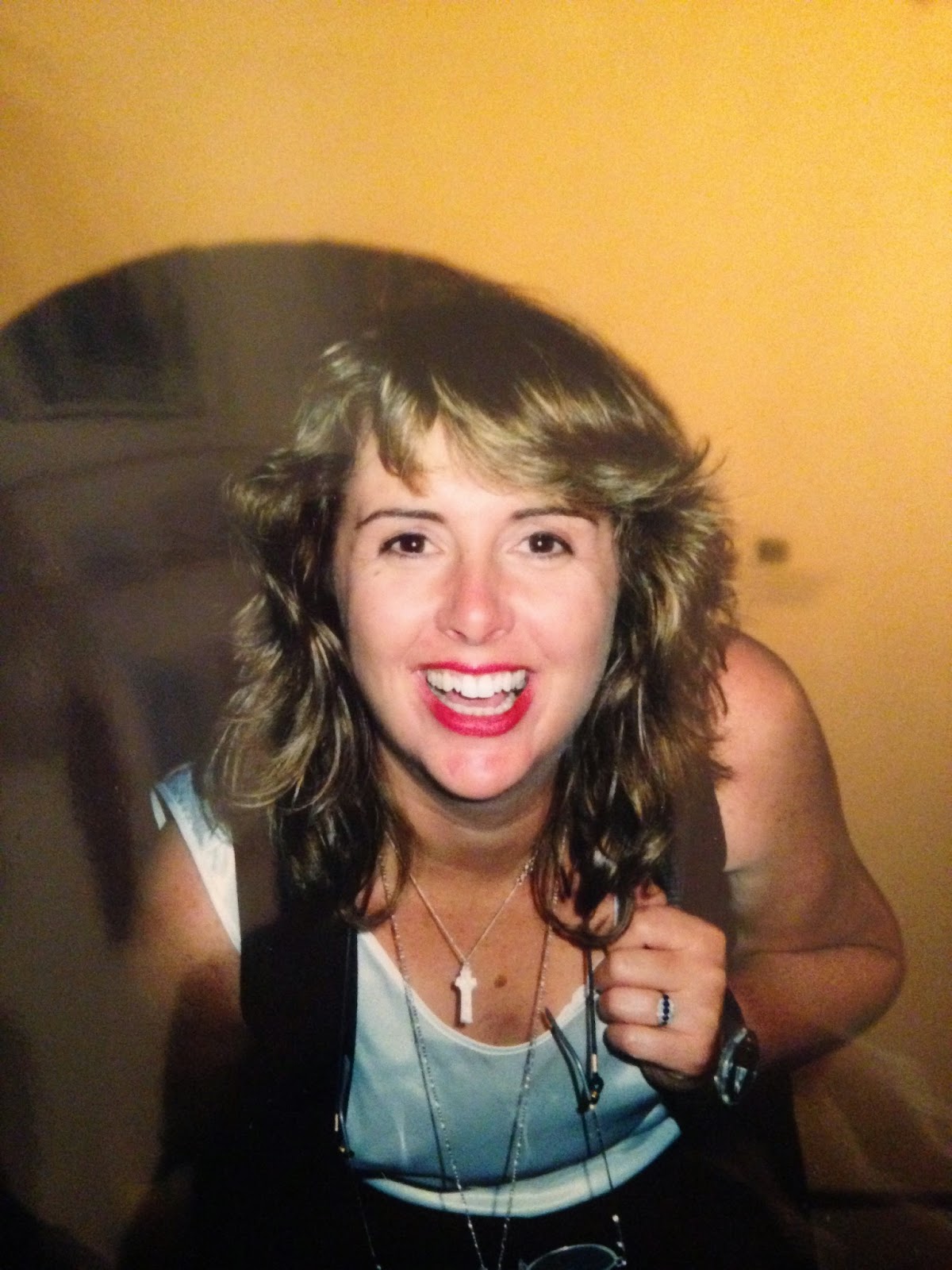 In the 90's I met a man I liked and got married.  My look softened along with my heart and I splashed out on blonde highlights. This marked the first time I tinkered with the colour of my hair  – well unless you include the dabbling with Henna in the late 70s.
The wedding highlights were just beginning to fade when the grey hair started to be an issue. Marriage, huh?  Anyway I added a box of Clairol that looked vaguely similar to my own colour, to my supermarket shopping and did a home job.  But the toll on the bathroom was immense; splashes of brown on tiles, on the loo, on the sink and not to mention to ruined towels. 
In spite of my efforts the grey continued its relentless march.  Tougher action was called for.
So began the visit to the local salon every two months to 'have my colour done'.  Two hours to read trashy magazines and wonder about celebrity life styles after which I bounced back out to my life with a shiny ageless head of beautifully blow dried hair. 
Then two months become six weeks and now we are down to one month.  And I am beginning to fear that I am losing this battle. 
Now let me state clearly the obvious.  And that is that while my hair has been succumbing to my great age – so has the rest of me.  I have lines on my forehead and wrinkles around my eyes and mouth.  My chin has trebled and my jaw line is slack.  And that's just my face.  But somehow I can live with all of that.  In fact I come close to believing that my face now has character.  My lines and wrinkles speak of tears shed through both sorrow and sheer joy.  And in the right light – fairly dark light, let it be said – I look, well, kind of reasonable.  No siree – no botox or fillers or any of that rubbish for me. 
But my hair lets me down every time those grey roots start to appear.  Immediately I look (with all due respects to her) like my 80 year old mother.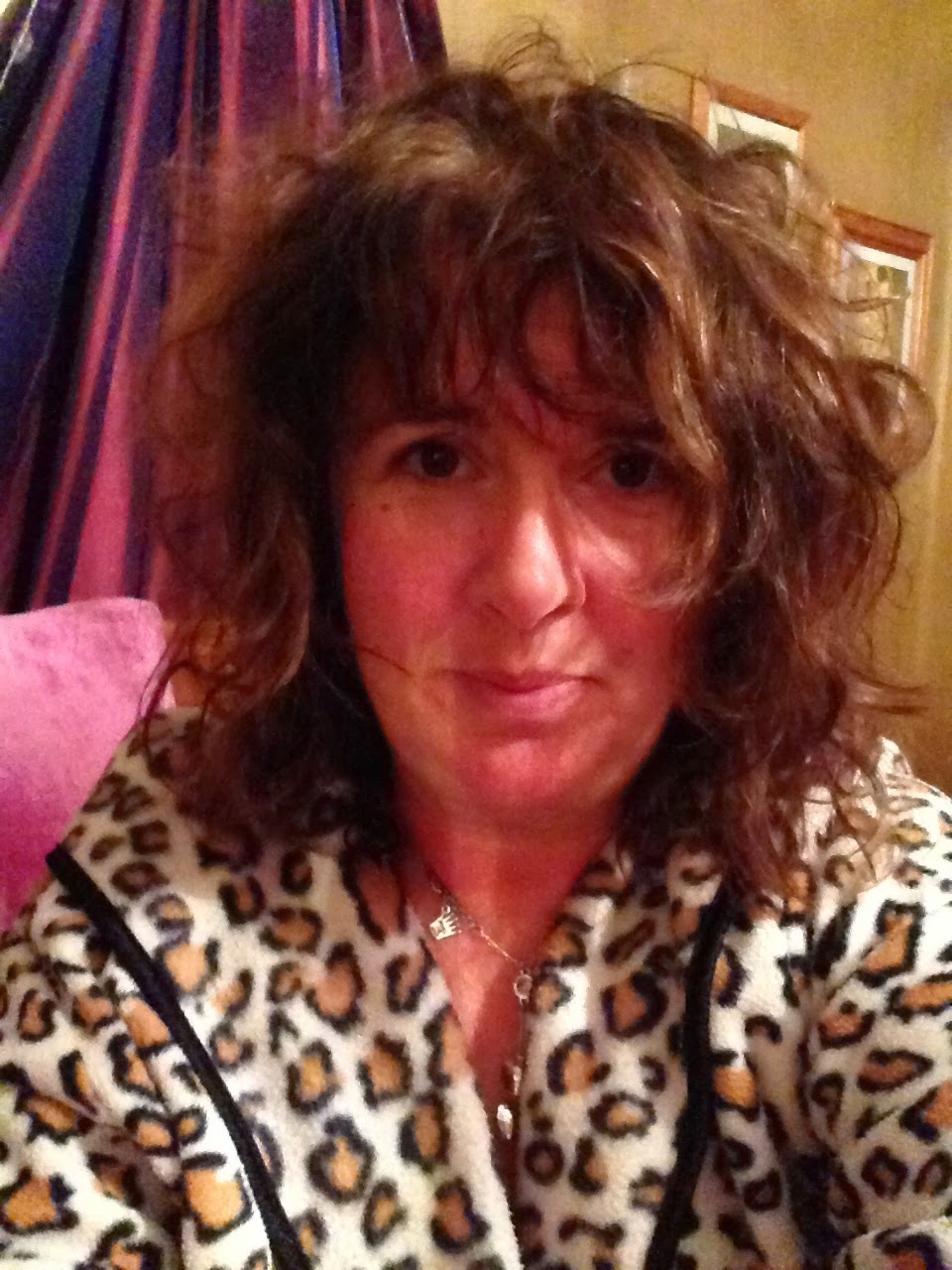 The recession hasn't helped.  There have been months when I have taken pity on the dog whose nails are scraping on the floor and who trips over his own long hair and taken him to the groomers with my hair money.  Sure what will another couple of weeks matter, I ask myself. Oh but it does matter.  Once those grey roots appear all around my face, I notice people talking to my hair rather than to me.  I keep catching sight of myself in shop windows or mirrors and wondering why my aforementioned mother has joined me.
Last summer my hairdresser gently suggested that I might like to start to lighten my hair colour a little.  This would make the appearance of grey roots a little less obvious.  But I wasn't happy.  My hair had never been light brown.  It didn't match my eyebrows.  I didn't feel like me. 
So I decided that I should do something radical with my hair.  Purple, I thought to myself.  I'll dye my hair purple.  Deep Purple – not that Kelly Osborne washed out purple… but proper purple.   That would be very rock 'n' roll. 
So next visit to my beleaguered hairdressers I informed them of my wish to go purple, proper purple.  They tried to politely dissuade me.  But I insisted.  They said they didn't really have the purple I wanted in stock.  Sure maybe I should think about it. 
I did.  I asked them just to give me a trim and blow dry and on the way home I picked up a colour from the supermarket.  My first attempt turned out a bit red rather than purple.  But I preserved – for the last six months I have been various shades of red and pink – usually at the same time.  I never achieved the purple I envisaged.  My hair was a bit of a mess.
But here's the thing about one's hair.  Unless you really, truly care, you only really pay attention to what's framing your face.  So I was pretty unaware of how weird my colour was until I travelled half way around the world recently to holiday with my emigrant daughter whose first job was in a hairdressers.
"Jesus Ma, you're hair's great craic – it's brown, grey, pink and red."  To make matters worse, the climate in Bali is very humid and so my multicoloured barnet also frizzed out in all directions.  I finally realised I did indeed look a holy show. 
In desperation I sent a message to my long suffering local hairdressers begging them for an appointment on the way back from the airport. 
"I think I might lighten my hair… " I muttered sheepishly.  "For the summer, like."    
The colourist looked at my poor sun bleached, dry, multicoloured hair. 
"We didn't do this, did we?" she asked.
"No.  I did"
"Right.  Well there is no quick fix.  Killing that red tone is going to take a bit of time.  We will have to go a bit darker before we can lighten it.  Otherwise you will just have pink highlights."
Pink highlights?  For a minute, I wondered.   
But I think I am over my hair proclaiming my personal mid life crisis.  I am ready to move on!   I think…..