This Friday I will throw a bag in the car and set off to the south west of the country, to Ballybunion to attend the annual Women In Media event which is run by Joan O Connor of Kilcooley's Country House Hotel.  It is a great weekend for anyone with an interest in media and how is portrays and treats women.  All details are at www.womeninmedia.ie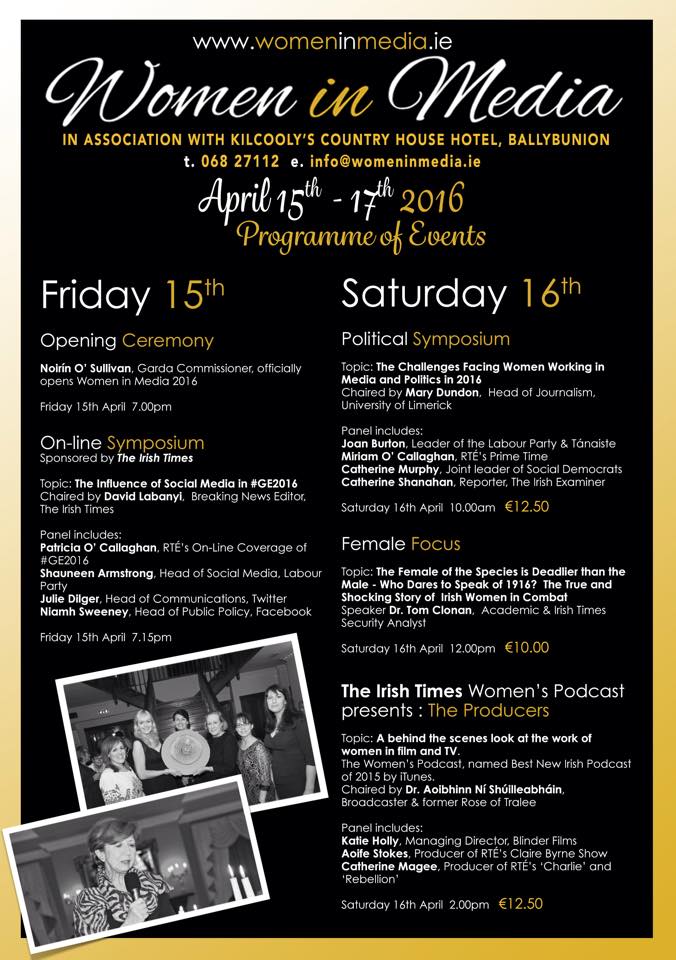 Here is why I think gatherings such as Women In Media are a great idea.
Women in Media, Women in Business, Women in STEM, Women for Election. What's with all the women's support groups?  Why don't women just get on with the job in hand and stop needing the security blanket of other women who will cheerlead and support them as they embark on their journey in Media, in STEM, in Business or for Election?  Do women really need these groups? Or are weekends such as Women in Media just excuses for women to get together and have some craic?
A recent meme on Social Media said "each time women gather in circles with each other, the world heals a little more".  I believe this to be true. There is a special energy that flows when women gather together.  A gathering of women often provides a safe place where we can explore parts of ourselves or aspects of the world often in a creative and mutually supportive way.
This time six years ago things were getting a bit rough in my house.  My freelance photographer husband was really beginning to feel the recession bite… work was harder to find and the rates he could charge for jobs had dropped and dropped.  I was a housewife (someone please invent a better term for someone who stays home to do the caring and cleaning).  It was the first time in my life when the world suddenly seemed like a scary place.  The kids were getting older and I realised I needed to get back to some kind of paid work.
The long version of what happened next, includes no one wanting to hire me, my theory as to why that might have been, not being eligible for any social welfare, lots of tears and finally the realisation that I was at rock bottom.  The glorious freedom of failure.  Then I began to apply to myself, the kind of wisdom that I was teaching my children – "you can do anything you want to do if you want it enough and are prepared to work hard."  I wanted to write and I wanted to do some radio.  The fact that I had little experience of either was not as big a deterrent as my own lack of confidence was.
I began my journey, much like a chicken in a minefield on Twitter where I cluelessly watched conversations among journalists and radio presenters and producers.  I started a blog.  Slowly I began to understand Twitter and made it work for me in building contacts.  But most of all I began to find really amazing supportive women.  And yes, I admit I was surprised.
I guess somewhere along the line I had bought into the, dare I say it 'patriarchal bullshit' that women can be very bitchy to each other.  This is a lie. Women who didn't know me well went out of their way to make me feel – well like a real journalist.  Some men did too in fairness but it was the women read the terror in my eyes as I forced myself into situations that frankly were terrifying, like the first time I did the newspaper review on Tonight with Vincent Browne – thank you Alison O Connor.
For me – confidence was the biggest challenge I faced in pursuing my dream of becoming a journalist.  And it was women who saw that, recognised it and helped me to overcome it.  I won't try to name all the women because I would be bound to leave someone out.  But there were many radio producers, presenters, editors and journalists who gave me a chance, who took the time to encourage me or just acknowledge my presence on the scene.  And I am so grateful to all of them
We all need mentors, cheerleaders, other women who we know have our back.  For me that is why this gathering of Women in Media is important. I have been inspired by almost all the women who I have listened to in Ballybunion.
As women we understand that we have busy lives, because as study after study shows, we still do the bulk of the domestic chores and the child and elder care.  Many of us don't have time to hang around in the pub after work or on the golf course in order to network.  We prefer our networking to be in defined times and places and the Women In Media weekend is a perfect opportunity to do all that.  The fact that it is in Ballybunion in beautiful Kerry is a masterstroke of genius – particularly for those of us who live in big cities.  Getting out of dodge for a weekend's 'work' surrounded by inspirational women is better than a spa break in my book.