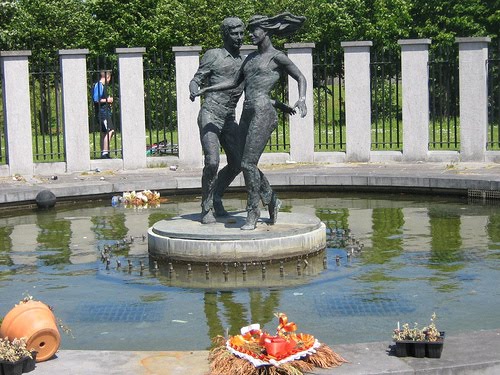 Friday 13th February 1981 was a regular night. I had recently turned 19 and was working for JWT in their head office in Baggot Street. I very likely went for a drink after work – a habit that used to drive my mother mad in the days before mobile phones and microwave ovens. Most Fridays I arrived home to find some congealed, dried out dinner resting in the oven which I had to eat assuring my very cross mother "it's fine – not dried out all." She didn't believe a word and I am sure got a fair amount of pleasure from the sight of my attempting to eat it without grimacing.
Anyway I do know that I was in bed at a respectable hour. I know because I remember vividly waking up at about 2am having had the most horrific nightmare I think I have ever had. I dreamt that I was in the JWT office at 109 Grafton Street. This was an office I had worked in for over a year. It was located at the bottom of Grafton Street just opposite the side wall of Trinity College. We were regularly asked by tourists where they could catch the bus to Dun Log-a-hair (the 46a to Dun Laoghaire stopped opposite).
Anyway in my dream I am working away when I look up to see a bus at the stop on the opposite side of the road. As I look, a huge crack opens in the ground and the bus begins to fall into the gaping hole. I watch horrified as desperate passengers try to escape. Some make it out the doors but there are a group on the top deck desperately trying to get the small rear window to open. It is stuck. I am helpless to assist them and watch in horror. The nightmare was so vivid and the horror so real that I woke up.
I was really disturbed by the image of the desperate passengers trying to escape disaster. I sat up and decided to read for a while in order to rid my mind of the horrible images from my dream. I looked at the clock on my bedside table. It was 2am.
Like the rest of Dublin and indeed Ireland, I woke the next morning to the news of what had happened at the Stardust Disco in Artane. That night 44 people lost their lives in what is still the greatest disaster to have occurred in this state. A further 4 people died in the following days and weeks. Their average age was 19 years, same age I was. The full scale of the tragedy that unfolded in the former jam factory was conveyed by the news images. Blackened young people stumbling out the main entrance, fire brigade and ambulance personnel assisting them in the general chaos. But what struck me most, 30 years ago were the unfortunates who sought escape through the toilet windows, which were barred. A photo of a ladder placed against the wall in an attempt to rescue them was a poignant symbol. Was it their desperation I picked up, as I slept in my bed on the other side of the city?
I don't know the answer to that. But I know that my nightmare was one of the most vivid and horrific I have ever experienced. As a Reiki Master I believe in the energetic nature of the universe. The energy of horror created in Dublin that night must have been powerful.
In the following weeks, the reality of how huge a tragedy this was for not just the northside suburbs of Artane, Kilmore and Coolock but for the whole of Dublin was brought to life when I found myself dealing with phone calls from bereaved families and friends as they cancelled holidays they were due to take that summer.
30 years on as I go to bed tonight I will remember the 48 young people who lost their lives in Artane that night. They had a future ahead of them on that night in 1981 just like I did. I thankfully am still living mine. They were not so blessed.
May they all rest in peace.