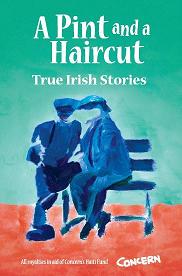 All of us remember the dreadful earthquake that devastated the island of Haiti early this year. I wrote about it
here
. Haiti has now disappeared from news reports and from the forefront of our minds, which I suppose are not very taken up with our own economic earthquake here in Ireland. However, true to form not all Irish people have not forgotten about Haiti. There are those that are working directly on the ground with Irish aid agencies helping the people rebuild their lives and there are creative and generous people like Garret Pearse.
A native of County Longford but now living in Wicklow, Software Consultant Garret, decided to do something practical to help Haiti. Some months ago he put out a call for 'True Irish Stories'. His intention was to compile a book which would raise funds for Concern's work in Haiti. The response came, from established writers, bloggers and brand new writers – proving that old adage that all Irish people have a story to tell, to be true.
After more months whittling down the stories he received and making difficult choices, the book is ready and should be hitting the bookstores about now. Taking its name from one of the stories, A Pint and a Haircut features 70 tales – including one by yours truly! I am proud to be associated with this great project along with other bloggers Eolai gan Feile (whose also donated the painting on the cover), Jane Travers and Maria Duffy.
A Pint and a Haircut retails at €12.99. If its not in your bookstore ask them to order it for you (ISBN 978-1-907536-16-1) or buy it online from the publishers Londubh Books. It will keep you entertained on long winter nights and make a great present. But most of all, it will help those whose lives are still devastated in Haiti.