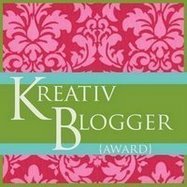 "I am so overcome, I can't believe it! Oh my God, I am so thrilled."
OK, so that's actually from my Oscar acceptance speech but I am very honoured to have been given my first blogging award from my friend
Suzannah
at
Joy Frequencies
. Being appreciated by fellow
bloggers
is a great pleasure especially when that blogger is someone who writes as well as
Suzannah
! So thank you S.
So, first off I would like to give this award to
Niamh
Griffin over at
Writer On The Way Home
. Although
Niamh's
blog is really aimed at returning emigrants and new arrivals to Ireland, her view of this country with fresh eyes (having spent many years abroad) often gives native readers such as I, a quirky and wry look at Ireland and her writing is insightful and always entertaining. So congratulations
Niamh
– here is your award!
I would also like to present this award to Alison Wells at
Head Above Water
. Alison is a gifted writer and her blog is full of wisdom and beautifully put together words. She is a great encourager of anyone attempting to write and an inspiration. So here you go Alison!
Finally, (and I know this could be seen as nepotism), I am going to hand this award on to one of the best photographers I know – Paul over there (a few feet away) at Sherwood Photography, not for his words but for his sublime images! Here you go Sherwood – catch!
Now, part of the deal, apparently is that on receiving this award I now have to list 7 things I like (excluding people). So here goes….
Books / Bookshops / Libraries…. in other words I love spending time with books, whether reading them or just being surrounded by them.
Animals
– regular readers of this blog will know that I love my cats and (as they say at all the best gigs) it's time to introduce the band. Tiger (
tortieshell
) is the Matriarch and beginning to show her age now,
Simba
(very large tabby – used to be male) is the constant in the house or garden and the most vocal,
Pasqua
(ginger used to be male) is a shy boy who had a very difficult youth but just wants a quiet life now and finally Kitty – or girl cat as she is known. Kitty hangs with my youngest whom she loves very much. She used to love the eldest until eldest (who is 22) got a boyfriend. And my boy Dylan (
da
dog) needs no introduction!
Good Coffee
– must be proper coffee, especially in the morning. My favourite is
Illy
– and thanks to Nor who keeps me supplied.
Churches – especially when abroad I love to visit churches. Churches especially when devoid of priests and dogma are truly beautiful and sacred spaces.
America
– great service, good positive attitude and some of the friendliest people on earth. And we will be there in less than two weeks. Whoop
de
doo
Laughing – I have a sign in the kitchen that says "a good laugh is sunshine in the house". And so it is!
So there you are – over to you
Niamh
, Alison and Paul should you wish to play!
Now excuse me while I go and move some things around to make space on the
mantlepiece
!