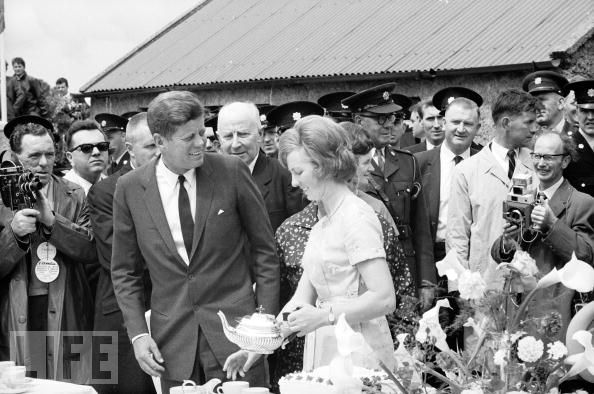 The 26th of June 1963 was my mothers 28th birthday. On that evening she stood in the front garden of our house on the Swords Road in Santry with her 18 month old daughter in her arms and together they watched as one of the most glamorous and charismatic leaders the world had ever seen, swept past in his motorcade on the way to Aras an Uachtarain.
I don't know if the fact that I saw President Kennedy from my mother's arms explains my fascination with his story. I think most people, particularly us Irish, find the story of JFK compelling. It has it all – power, glamour, wealth, success, Hollywood legends, conspiracy and the ultimate tragedy of a life cut short. To this day and no doubt into the future, JFK is the President many leaders, particularly American Presidents aspire to. Clinton and Obama made no secret of their admiration for the 35th President of the United States and the Kennedy family's endorsement of their campaigns, was a key element in both their elections to office.
What was it that made John Fitzgerald Kennedy so special? Watch old film of this attractive man, who was 43 when elected, and his charisma is still evident today. Charisma, no matter what your role in life is, is a very useful commodity. JFK had it in buckets. He was by all accounts very charming and had the ability to make people like him. His self deprecating sense of humour also won people over. He was a leader whose two most powerful tools were charm and charisma. Coupled, no doubt, with a sharp intellect and innate understanding that politics is all about people, combined to make him a very effective statesman.
He understood that to connect with people, be they your countrymen or not, was essential. He arrived in Dublin on that June evening in 1963, straight from Berlin where he had made his famous 'Ich bein ein Berliner'speech. JFK knew how to connect with people alright.
But connecting alone is not enough. Kennedy also knew how to communicate very effectively his vision of the world. He used big broad brush strokes when painting that vision. Many years later, African American poet Maya Angelou said "… people will forget what you said, people will forget what you did, but people will never forget how you made them feel." And when he came to visit us in Ireland, Kennedy made us feel good, good about ourselves and good about this country we live in. What a precious gift.
When he addressed the Joint Houses of the Oireachtas on the 28th of June, he delivered one of his trademark, powerful orations. It was full of references to Ireland's proud literary tradition, stressing our relatively new independence, and the role he saw for Ireland in working towards World Peace. Probably the best known passage from the speech that day was when he quoted George Bernard Shaw's approach to life :"other peoples see things and say 'Why?…. but I dream things that never were – and I say: Why not?"
Kennedy went on to say
"It is that quality of the Irish, the remarkable combination of hope, confidence and imagination that is needed more than ever today. The problems of the world cannot possibly be solved by skeptics or cynics whose horizons are limited by the obvious realities. We need men who can dream of things that never were and ask, why not?"

These words, delivered directly here to us in Ireland, inspired our country almost 50 years ago. We listened and we believed. Why? Because they were delivered by a charismatic leader, who had a vision to communicate to us and who ultimately made us feel good about ourselves. To me, this is the very essence of leadership.
We should be grateful to Ryan Tubridy for putting the spotlight back on those momentous days of 1963. Because buried among the newsreel footage, the anecdotes and the sheer excitement, is Kennedy's speech to the Joint Houses of the Oireachtas. It is a speech that is as relevant today as it was on the day it was delivered. Almost half a century later, his words are still a wonderful gift to us. As we flounder from one financial crisis to the next, in a vacuum devoid of leadership and of vision, let us remember that the 35th President of the United States of America, John Fitzgerald Kennedy told us we possessed a remarkable combination of hope, confidence and imagination. And let us hope that he was right!