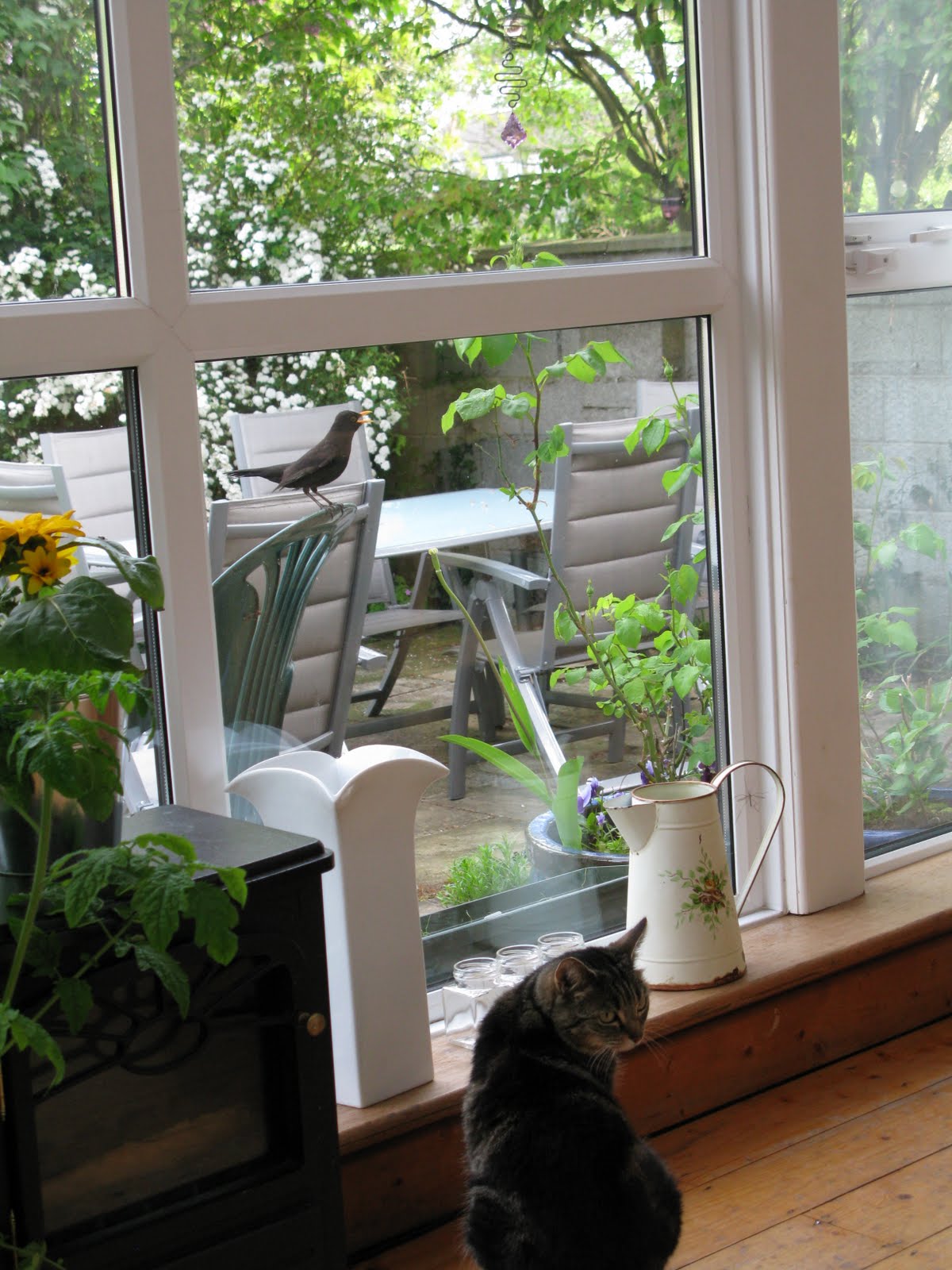 STOP PRESS: I finally caught Mrs Blackbird yelling birdie obscenities at Kitty who is getting a bit fed up of having no peace at all!!!

I am very glad that I don't own a gun and that I live in country where it is generally against the law to own one. Because if I had a gun, last week I would have shot my dog, Dylan. He had a charming dose of the trots FOR 3 DAYS. 3 mornings of cleaning out his bed (crate) before breakfast to a chorus of "ohmygod, that's just disgusting" from my darling precious daughters who would have run the risk of being shot too.
This week I would shoot Mrs Blackbird. Yep, that's right. Mrs Blackbird. I would point my gun and BANG. Feathers all over the place. And then PEACE. QUIET.
Now before you rush to judgement – let me ask – have you ever heard an agitated Blackbird. They make the most annoying racket and it goes on and on and on. The problem clearly is that Mrs Blackbird is a mammy. She must have a nest full of baby blackbirds in the tree at the end of the garden. I am also assuming that this particular Mrs Blackbird was a bit sloppy when it came to doing her background research on a suitable location for her nest. She clearly saw the tree and letting her heart rule her head, decided "This is it". "This is my tree. This will be my new home." Had she come back for a second viewing before finally making her mind up (and had she bothered to tune into Kirsty and Phil she would have known all this), she would have realised that she was making a nest at the end of a garden belonging to four cats.

Now my cats are generally laid back, lazy moggies who venture into the garden to lie in the sun or do their business. They have a cat flap to facilitate these comings and goings. Youngest of the foursome is Kitty and she occasionally brings home a field mouse. She has never (to my knowledge) caught a bird. But anytime any of the cats venture into the garden at the moment, Mrs Blackbird comes flying out of her fabulous tree, roaring and bawling all kinds of birdie obscenities. She perches on the swing and keeps up her tirade until the cat in question retreats indoors again. But when Kitty puts one paw into the garden she goes ballistic altogether. Squawking and screeching at the top of her lungs and dive bombing Kitty as she wanders down the path.
But this morning took the biscuit altogether. I was sitting trying at my laptop trying to work on a story. I have gotten somewhat used to the incessant squawking but all of a sudden it seemed to go up a gear and get louder. "Oh shut up" I roared as I turned around to see Kitty sitting indoors on the window sill and Mrs Blackbird perched on a patio chair directly outside the window telling Kitty exactly what she would do with her if she even put one leg into the garden. I was stunned. Of course I had no camera to hand.
I will admit to admiring Mrs Blackbird's tenacity and her dogged protection of her offspring. But clearly her hormones have gotten the better of her and I am worried for her sanity. Without a gun I am just praying that all her babies fledge successfully and soon. And that Kitty stays as lazy as she is, so we can all live happily ever after!