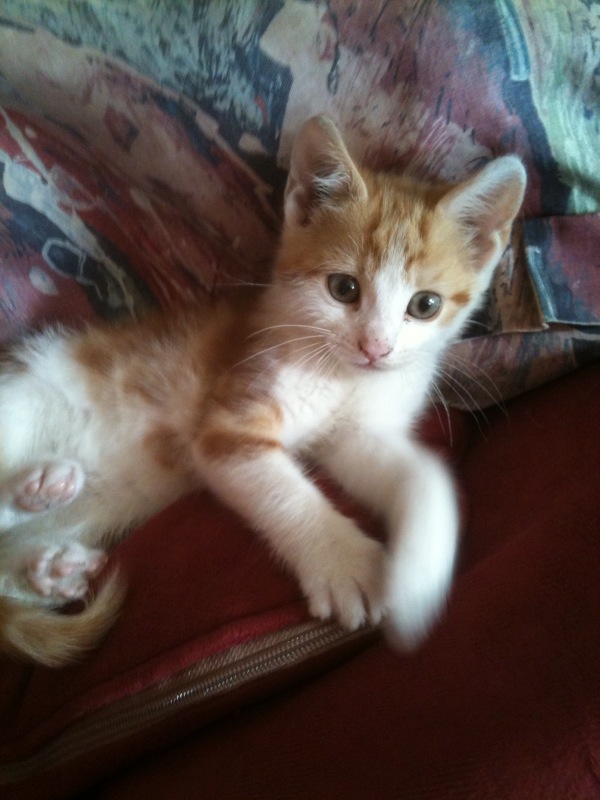 What will we call him?
The girls chirruped happily in the back of the car.
"Meooowww" said the little ginger bundle in the cat carrier.
"Dewey"?
"Ginger"?
Negotiating the slip road onto the motorway,
I indicated into the traffic.
" His name is Hector" I announced
"He has the same colour hair and he will be great craic."
Hector it was.
That was Friday afternoon.
He fitted right in.
He felt part of the family.
I could see trouble ahead.
How will we ever let him go?
"We are not having 5 cats" I announced,
"He goes back to the DSPCA in 3 weeks and on to his forever home.
Let's just give him a great start."
So began 'Hector' weekend.
We all wasted hours with this feline joy machine.
He played – a bit,
He ate – a bit,
He loved – a lot.
On Sunday evening he was sick.
He was not very interested in eating.
But he still liked to wander about
Greeting and trying to make friends with the other felines
I could hear the faint ringing of alarm bells rang in my head.
On Monday he was up and down.
But he didn't eat.
Not one scrap.
I found him once or twice just sitting on the sofa,
He looked so sad.
Monday night I spend the entire evening watching rubbish on the TV
Hector slept on my chest,
Happily.
He purred.
Every so often he stretched out his paw,
And looked up into my eyes
We connected.
I willed him well
I said goodnight.
Tuesday morning, Hector was still very sad.
I phoned the DSPCA
Bring him they said,
The vet will have a look at him
This time it was just me and him on the motorway
The car was very quiet.
His temperature is low the vet said
We will keep him in and see how he gets on.
We will phone you tomorrow.
I never said goodbye.
I went home,
Cleaned his litter tray and food dishes
Ready for his return.
I got no call.
My husband phoned – 'any news of Hector?'
I phoned at lunchtime.
I phoned again.
At 5pm the nurse phoned me back.
Hector didn't make it.
He had some deadly kitten virus,
There was nothing they could do.
I held my girls as we all cried.
Hector was one of those special creatures,
Somehow he touched all our hearts.
We only knew him for four days
But everyone knows it only takes a moment to fall in love
Hector – we are so sad your life was so short
But we feel so lucky to have been your family just for that time.
It was a privilege to share your last weekend.
Who knew your forever home would be beyond this world.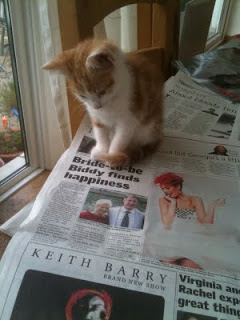 The DSPCA do wonderful work for unloved and abandoned animals. They always need help. If you can foster an animal or adopt one check out their website. They also need your donations.
Sharing your life with a four legged can bring tears, can be hard work but despite all that, for many of us it is one of the greatest joys of life.