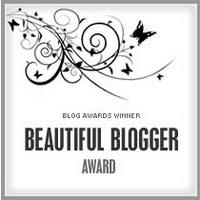 That beautiful blogger, Ann over at Inkpots and Quills was recently awarded this 'Beautiful Blogger Award' (congratulations Ann) and has passed it on to yours truly for my lovely Kitchen Table!! I now have to list 7 interesting things about myself and pass the award along to 7 more beautiful blogs (not including those to whom Ann has also sent it).
The very scary thing is that I have had a lot of difficulty in remembering any interesting things about me. I have done my best, have probably stretched the limits a bit – one in particular is interesting but not directly about me. So here goes….
1. I am a Reiki Master. Ommmmm. You may now get up from your knees and read on!! I discovered Reiki after my youngest was born prematurely and was quite ill for the first two weeks of her life. She went on to have breathing issues until she was 2. I had heard of Reiki and was immediately drawn to knowing more. So as soon as I retired fully from the paid workforce I took my first Reiki Workshop.
I will bore you more about Reiki maybe another day. But suffice to say that it has been a huge help to me in my daily life (when I remember to use it). Occasionally I still give healing sessions to friends and family! Ommmmmm
2. I have had tea with Meave Binchey at her home, with Anne (You Are The Weakest Link… Goodbye) Robinson in the Conrad Hotel and (best till last) Charlie Haughey on the lawn of his mansion in Kinsealy. So there…. (feel another blog post coming on).
3. I am a total Hispanophile (dictionary said this was a word) loving all things Spanish. Well, I definitely don't love Bull Fighting, but other than that. I love the language and speak a very small smattering which improves greatly in when in Spain, late at night, after lots of red wine! I love the passion and the energy of the Spanish and have been known to hang around beside groups of Spanish students just to let their words wash over me. I have always had a dangerous weakness for Spanish men who pronounce my name with its full three syllables and roll both the 'r's. Ohhhhh…..
4. My love of Spain actually predates the two winter seasons I spent working in the Canary Islands – both in Gran Canaria and also in Tenerife as a Holiday Rep! (This won't result in a blog post! Some things must remain sacred!).
5. Ok – here's the dodgy one. My maternal Grandfather was a bit of a local hero in North Cork during the War of Independence. He was involved (with a few cohorts) in the kidnap of some British General who they ran around safe houses in the Fermoy area for a couple of weeks before releasing him (sounds like a not fully thought through plan to me!!!). My Grandfather's notoriety was assured however when he was captured by the British (probably on suspicion of knowing the whereabouts of one missing General) and managed to escape – out through a toilet window! He was a handsome, very tall man and he met with Michael Collins (another of my heroes) on many occasion. Unfortunately he died when I was about 6, so I never got to talk to him about any of this!
6. I have spoken on air to Marion Finnucane, Gerry Ryan, Pat Kenny and Ryan Tubridy on live national radio!
7. I have an unfulfilled ambition which is to swim with wild dolphins in warm water somewhere! If you think you can help with that one – please let me know!
So that's it. Wake Up! I am handing this award on to the following beautiful blogs:
Paul at Paul Sherwood Photography
Maria at Write Now Mum
Hazel at Hot Cross Mum
Niamh at Irish Wanderings
Aisling at Strictly Inkwell
Dorte at DotCom
And finally Mia – here you go – catch this award…. Mia's Room