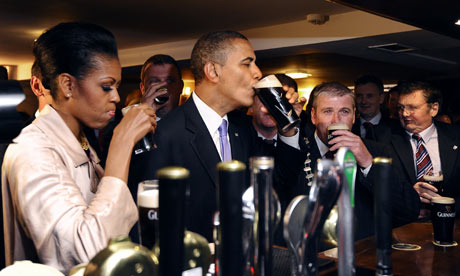 After a remarkable few days, yesterday I found my brain reeling from all the visual images and the 'sound bytes' which have dominated our media for the last week or so and which culminated with the visit of US President Barack Obama and his wife Michelle. But whereas the visit of the Queen was entirely satisfying and, dare I say it, moving, the visit of Obama was not in the same league at all. Did it suffer by the comparison with one of the most important events to have taken place in the last century in this country? Or (shock horror) is President Obama not quite living up to his own ability to communicate and to generate PR for himself?
On arrival at Aras an Uachtarain I was struck by Obama the Showman, as he yelled to the assembled media "Good morning, how are you all doing?" But perhaps he was just doing what many Americans do naturally – oozing confidence and informality.
His trip to Moneygall, which was one of those towns you sped through on your way between Dublin and Limerick and were never tempted to stop, was different. Here I thought he was most himself. Clearly relaxed and seemingly very taken with the fact that his third great grandfather (who rejoiced in the very unlikely Irish name of Falmouth) had come from this little town. He was in no hurry as he held babies, received hugs and shook what looked every hand in the town.
Then he adjourned to the pub in the usual piece of staged PR for Diageo. Like Clinton before him – he drank the Guinness, waving it towards the photographers and roaring Slainte! Then it was back to Dublin for his speech to the Irish. I was someone who stayed up into the small hours to watch him being elected in 2008. I am a big fan and so was tempted to go into the city to listen to this man who carries not only the hope of Americans but of the free world with him.
But having braved thousands in Dun Laoghaire for the Red Bull Flopfest the previous day, I'd had enough of crowds and so decided to watch from my sofa instead. As I listened I kept waiting to be uplifted. To hear something I could hold onto. To feel that my faith in this man was going to be rewarded with even just an insightful comment which would make it clear that he understood modern Ireland and our current situation. But instead what I got was a speech that seemed to me to have been cobbled together on the flight over, taking more than a little inspiration from both Kennedy and Clinton before him but without the context that both of these predecessors had. Kennedy was addressing a relatively newly independent Ireland and Clinton was marking the Peace Process.
Obama is a consummate communicator and a great performer. There is no doubt about that. But is he a statesman, a visionary, a great leader of our time? Not yet he ain't. As I watched him on TV, I laughed and smiled and felt good. But within minutes of it ending, I was left feeling pretty unsatisfied. It was like eating a McDonald's meal – tastes great but shortly afterwards you realize you are still hungry.
This was no visit, official or otherwise. This was a 'dropping by' on his way to bigger and more important business in Europe. His few hours in Ireland provided a bit of R&R for all concerned. And the opportunity to tell us we are a great little country who helped build America; a little island who has had its fair share of dark days but who always overcomes adversity. Had no one told him that only a few days beforehand, in her clipped and formal tones, Banrian Eilis a Do had signaled Ireland's coming of age and along with our own President Mary McAleese set our faces most definitely to the future.
Grown up Ireland should expect far more from the President of the United States, than a photo opportunity with a bloody pint of Guinness and the same old speech telling us we are great. No, there was no vision of Ireland's role on a world stage, no creativity of thinking, just same ole', same ole'. Not good enough anymore. No siree. A definite case of could do a whole lot better!
Postscript: There was one highlight of the visit though and this is really for the benefit of my American readers.
We had all heard about the huge entourage of both people and vehicles that travel with the President. The most impressive of these is the presidential car (of which there is in fact at least two). This car, known as the beast is bullet proof and bomb proof and weight tons. It is truly a magnificence to behold. While waiting outside Aras an Uachtarain (Presidents Residence) it was polished by an aide. The Americans are rightly proud of The Beast. It took a ride over a security/speed ramp outside the American Embassy in Dublin to put The Beast out of commission! The clip is hilarious – listen for the noise of the cars hitting the ramp and then the hilarity of the Dubliners who were watching! I believe the dead beast was finally towed to Dublin Airport yesterday and is now back in Washington for repair.