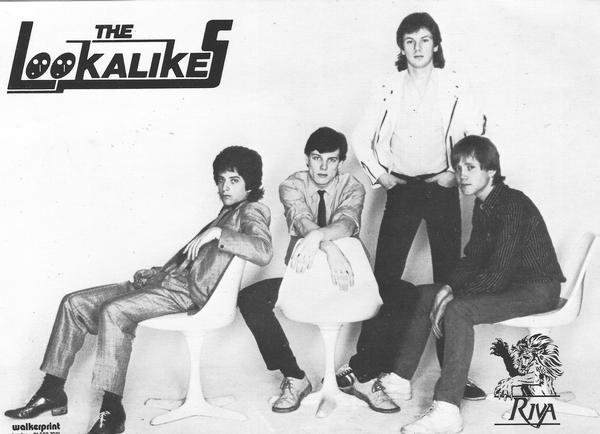 Music, like our sense of smell, has the power to transport us back to a time and to a particular place in an instant. When that music is live, the effect is more intense.
Thirty years ago, myself and my best pal, took to following two particular Dublin bands on a very regular basis. One band was Stepaside who had a weekly residency in South Dublin. The other was an edgier outfit called The Lookalikes, who played locally but also took us Northside to the Crofton Airport Hotel and one occasion we made a trip to Skerries – an enormous adventure for two girls from Dun Laoghaire.
Both bands were great, but it was generally felt that The Lookalikes were on the brink of the big time. The fact that they were a seriously good looking foursome did nothing to hinder this belief. My memories are of exciting nights drowning in the great music and the rampant sex appeal that oozed from the stage.
The Lookalikes unfortunately did not make the big time and had broken up by the mid 80's.
They recently reformed for a one off gig in The Button Factory, Temple Bar, to mark the 30th anniversary of their coming together as a band. And guess who were seated just in front of the stage – complete with bemused husbands? As they came on stage and began to play, we commented on the fact that, in general, the years had been good to the guys whose good looks still lurked under softened features. Then conversation became irrelevant. The music picked me up and the guys on stage merged with my suddenly vivid memories of how they each looked in 1980. As the rest of the audience faded away, it was just me and the band – as it had always been. I danced. I sang along with lyrics I assumed I'd have forgotten. And the passion I felt for the music hadn't dimmed one bit.
It was great fun which, all too soon came to an end as they belted out an encore and then were gone. I was buzzing and on the greatest natural high. Reluctantly I left the venue and we headed home to our sleeping children – old memories and passions revived.
I went into town that night a 47 year old, baggy around the edges, contented, suburban housewife. I arrived home six hours later in the company of my 19 year old self, who is great craic but a little wild. It was a most peculiar experience. I couldn't sleep. Beautiful songs that had clearly been burned into my brain all those years ago, had surfaced and were demanding to be listened to again. They played over and over in my head, mixed in with scenes from those heady days.
Don't get me wrong, I love my life and it's rather pedestrian pace through school runs, children's activities, working on the parish newsletter, baking and walking the dog. But since last Saturday another me has arrived in the house. She has downloaded The Lookalikes tracks and plays them at full volume. She insists that I try harder with my hair and put on make up every day – even if I am just going to the shops. She seems to be waiting for the next adventure to arrive. And she enjoys nothing more than a bit of danger in her life. She is a true Rock Chick. Great fun, but I am now wondering if it is time she moved on or back to wherever she had been hiding out.
I suppose that that will depend on whether The Lookalikes decide to gig again anytime soon. I hope they do. I have promised her I'll go again. I needed no persuasion.