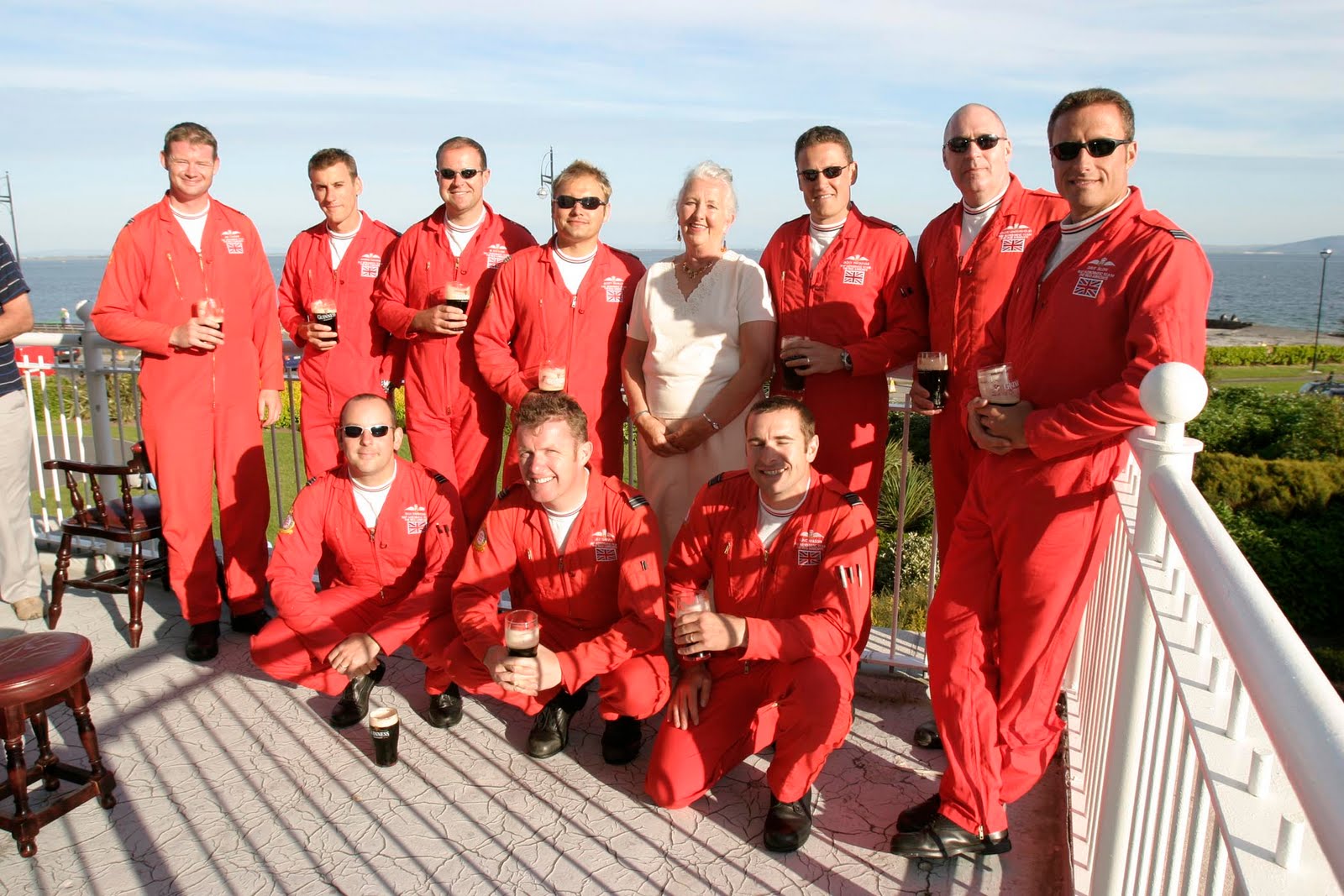 On a bright sunny and warm August day in 1987 I held my tiny 2 week old baby daughter close to my chest as my breath was stolen away by the RAF Red Arrows zooming in from the west to swoop over the air field at Baldonnel. I could feel the noise and the speed right through to my bones. I had never experienced anything like it. In 1987 Ireland was a very different place and with 'the troubles' ongoing in the North of Ireland and so the Arrows didn't land on Irish soil. They flew in from RAF Valley in Wales and having thrilled us with their display of precision flying, they tore back across the Irish Sea again. It was probably the first time an RAF flight had officially crossed Irish airspace since the days when Baldonnel was itself an RAF base.
The next time I saw the Red Arrows was again a special occasion. They displayed at the Galway Air Show on the 26th of June 2005 – which also happened to be my mother's 70th birthday. My mother is a bit of an airplane nut. She loves airshows – even the more pedestrian ones. But she is a huge fan of the Arrows. So what better way for us to help her celebrate her big birthday than to decamp for the weekend to Galway and enjoy the aerial acrobatics of the RAF's finest?
The airshow was great and the Arrows gave their usual brilliant performance. Afterwards we returned to our hotel to get ready for mother's birthday dinner. We arranged to meet in the foyer at 7pm for drinks. So there we all were, gathered in our finery, awaiting the arrival of the birthday girl when the lift doors opened and out she stepped…… flanked on each side by a Red Arrow. Yep, one on each arm, resplendent in their red jumpsuits. I am sure mother was dressed to perfection but I only remember the enormous smile she wore as she floated towards us.
By the time we had all closed our mouths, the arrows had gone. Mother was still hovering above ground as we sat armed with our meagre presents knowing that we could never match the gift the Red Arrows had just bestowed on her. As we regained our composure, attention turned to my poor husband who is a professional photographer and who was so stunned he forgot to pick up his camera to capture the moment. He was mortified. He disappeared.
We ordered drinks and listened as mother babbled on excitedly about how charming and handsome the fliers who were her escorts were. Next thing the photographer reappeared and ordered mother up to her feet. He bore her away and the result is the photo above.
The Red Arrows were having a private reception in another part of the hotel but readily agreed to pose for a picture with mother when the photographer admitted his failure to get a picture downstairs. This photo which they all later signed is one of my mother's prize possessions. She moved a family portrait in her hall in order to give it pride of place!
I recount this story now because two weeks ago the Red Arrows were displaying at the Bournemouth Air Show and one of their aircraft crashed. The pilot was killed; some believe this was perhaps due to his staying with his aircraft in order to direct it away from nearby houses. If true, this would not surprise me. The pilots we met in Galway 6 years ago were gentlemen and they made my mother's 70th birthday one she will never forget. Oh and this weekend the mother is off up to Portrush in Northern Ireland for their annual airshow which promises Vulcan's Tornedos and F16 – mother will be delighted!