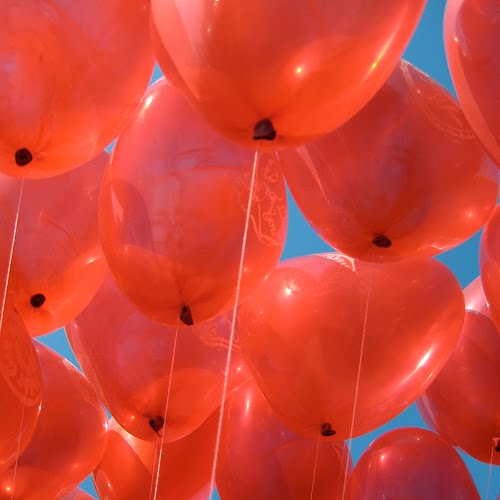 I have just issued a warning to my dearly beloved (yes he who is also married to his Saab) that he is NOT to purchase a big bouquet of flowers on our already stressed Visa Card tomorrow. And as the only flowers I like are generally big bouquets of exotic jungle-like blooms, which cost a fortune, he is not to buy me flowers. Recession means a card will be fine. But if I am completely truthful, I would love and cherish a card made by himself using the kid's markers, pens and paints. But he won't, so I won't dwell on that dream, 'cos it will only make me grumpy.
Our last Valentine's Dinner out was some years ago. That year, I thought it would be nice to do an old fashioned meal in quiet hotel in Killiney, which had a lovely dining room overlooking the bay. I thought it was bound to be quiet and the only other patrons would likely be old married couples gone way beyond flashy and trashy shows of their deep affection for each other. So the table was booked and we arrived in the bar clutching menus about half an hour beforehand. We had a quiet drink and I was thinking that this was very civilised and just want I wanted. We chatted while we waited for the Maitre D' to show us down to our table, which he duly did. As I stepped over the threshold into this smart dining room my heart sank. And mine was the only heart to sink, for every other visible heart in the room (and there were many) were floating in the air, one suspended above each of the otherwise elegantly laid tables. There were sparkly hearts on the wall. We were shown to our table in this room full of equally embarrassed looking couples and we dined sheepishly under the shadow of this large helium filled red heart which hung over our heads like a cartoon arrow. "Look here is another pretending to be loved up couple" it proclaimed. I vowed never again.
So now romance is a night in, just the two of us, table laid, wine 'breathing' and fire lit. And after a chat and our dinner, we retire for dessert to the fireside. There is not a balloon or heart in sight, only perhaps the vase of mad flowers in the corner – although they won't be here this year either. And now that I think of it Valentine's is Sunday this year, the day of The Big Sunday Family Roast Dinner. Sherwood, you had better make that home made card after all!!!!