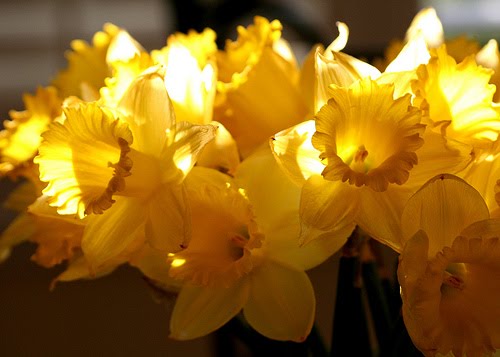 How the hell are we already in March? It seems like Christmas was only yesterday.
The daffodils have blossomed, their buttery brightness cheering up the still muddy garden no end. I love daffodils. They are such a symbol of hope. In our family we mark two anniversaries in March – my father died ten years ago and my brother fifteen years ago this month. So daffodils bore witness to the grief and desolation of both of these bereavements. But they did so by quietly speaking to my soul of hope and of life continuing even when it seems impossible. For that I will always be grateful to these seemingly everyday flowers.
Of course in Ireland we have (finally) counted all the votes that were cast last week and we (almost) have a new Government, which in itself brings new hope. We have been promised new ways of doing things, new politics but most of all we have just had, what some commentators have termed, a pencil revolution. The people of this little Ireland reacted angrily, not with protests on the streets or strikes but by very conclusively removing the governing parties of the last 14 years from office. The Green Party have been rendered completely ineffective with no seats in Dail Eireann at all and the all powerful Fianna Fail who have dominated politics here since the foundation of the state have been reduced to being the smallest of the main parties represented in the new Dail.
Psychologically we, the people can feel 'job well done'! We now need our new Government to get on with the very challenging job of getting this country back on its feet.
The excitement of their first day in Government Buildings got the better of some of the newly elected boys and girls. Especially Fine Gael TD Mary Mitchell O Connor who was so taken with it all, got a tad mixed up in the carpark when she attempted to leave. She ended up driving her sexy red coupe onto the plinth in front the Dail and then down the steps to the gate where the photographers and reporters recorded her Top Gear moment. Was she making a case for ministerial mercs to be retained?
Finally, yesterday we beat England at Cricket. And not just any old cricket match – but the Cricket World Cup no less! Up till about 5pm yesterday I doubt if very many people knew that there was even such a thing as a Cricket World Cup – much less that it was actually taking place at the moment. Can victory for Jedward in the Eurovision be far off now? Is the tide turning for Ireland? Are we finally getting our mojo back? The signs are good!
Photo by John Morgan on Flickr