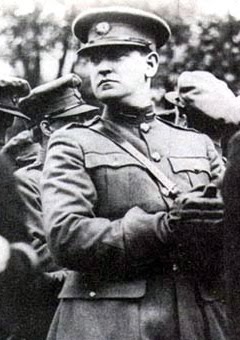 Regular readers of my blog will know that one of my all time heroes is Michael Collins. I have written about him before
here
. For my overseas readers, Michael Collins was the man who gained Ireland her freedom after 800 years of occupation by Britain.
Many of you will also be aware of the competition currently running on RTE to find Irelands Greatest. The contenders are Michael Collins, Bono (yep, I kid you not), Mary Robinson, John Hume and James Connolly. Each of these great Irish people is being featured in an hour long documentary outlining why they should be voted Ireland's Greatest. I watched the Michael Collins one (a repeat of the original broadcast) on Sunday night.
I have read widely on Collins and so although I didn't learn much I didn't already know, the old news reel footage was wonderful and confirmed most of my opinions about him. Here was a man, a farmer's son from West Cork, who went to London at 16 to work in the Post Office Bank. He returned to Dublin in time for the Easter Rising and went on over the next 6 years to achieve Ireland's freedom from the most powerful empire on Earth.
He strode around my city and this country with confidence, vision and a seemingly huge amount of charm and charisma. He managed (in the days before mass media) to sell The Treaty he negotiated with Britain to the Irish people whom he addressed at mass rallies all over Ireland. He was a gifted communicator, a visionary, a soldier, an intelligence expert, a politician, a statesman and a celebrity. His work rate was huge. He was passionate, committed and determined. For me, there is no competition. He is Ireland's Greatest.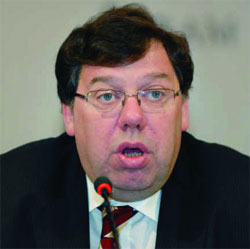 On the same night as I watched the documentary on Collins, millions of people across the US were watching Jay Leno, who began his show by displaying a very unflattering photo of our Taoiseach asking his audience to guess who this man was. Was he a bar-tender, a politician or a night club comic? To huge roars of laughter, he announced that this man was in fact Ireland's Prime Minister. He finished up by saying "at least we aren't the only ones with drunken morons". It was cringe making watching the clip back on YouTube the following day. And who can blame Jay Leno? Our leader, Brian Cowen has left himself wide open to such ridicule by his recent behaviour. But even before the hungover interview on Morning Ireland, Brian Cowen has managed to give the impression that he is weary of having to lead this country. He often comes across tetchy and irritated during interviews, as if it is a real nuisance to have to answer questions about the economy etc. He may have said it is an honour to lead this country, but you would never deduce that from his usual demeanour.
One wonders how Ireland could have gone from having a leader such as Collins to having a Taoiseach such as Cowen. I am angry that he has reduced our country to a laughing stock and a financial wreck. But trying to stay positive I am holding to the old adage that the darkest time is just before the dawn. Perhaps somewhere on this island, a new Collins is about to come into focus; someone who will lead Ireland forward to a new day. I really hope so!