One of my new year's resolutions this year, was to concentrate more on my writing. And as I was announcing this at home, I also bemoaned the fact that I do not have a dedicated writing space. I have since spent many house imagining exactly what kind of 'writing space' I would like to have.
Would I be happiest with a garden room? A posh shed as it were, located at the bottom of the garden with a view of the house but a walk across the grass to separate me from the hustle and bustle. I like the idea of being under a tree, beside my buddleia bush, working a little bit closer to nature. I dream of how I would furnish this wooden cabin in simple but cosy style. I would like to be able to use the space to meditate too. It would be my own personal oasis. But I am a bit put off by having to traipse over the grass on rainy days or late in the evening in order to commit my thoughts to laptop.
Then I think that maybe a room within the house, from a comfort point of view, would be better. It would be warmer in winter and I wouldn't have to risk getting wet when on my way to write! As most of my writing is done in the morning when the house is quiet I would prefer a room in the front of the house which faces east and catches the morning sun. But unless I evict my photographer husband from his office there really is no other option at the front of the house.
The final option would be to convert the attic into a space for my writing. The idea of being at the top of the house, under a velux window which will provide me with a view of the every changing sky is appealing. But to convert our attic would be a big job and not one that is possible at the moment.
So here I am, in my usual spot, tapping these words into my laptop, sitting at the breakfast bar just off the kitchen. I have now almost trained my mind not to notice the noise or the mess in my immediate area. As I type this, the kids are playing ball with 'Dylan da Dog' who has the most awful yappy bark when he is excited.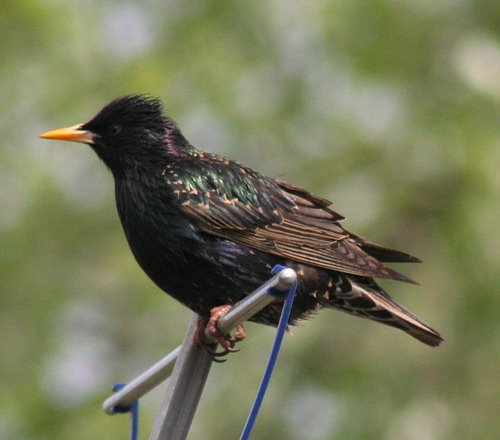 The best thing about this spot, is that I am under a velux window. When it is raining (a lot of the time), the sound of the rain on the roof window puts me very much in touch with the weather. But even better than that, is the fact the Mrs and Mrs Starling have again nested in the eves directly above my velux and so I can keep an eye on their very busy comings and goings. And when it's not raining (occasionally) I can hear the insistent cries of their newly hatched little ones. Sure how much closer to nature could I get – unless I could join them in their nest!
Somehow I think this fairly chaotic spot is probably perfect for me! Although I still aspire to a proper writer's den, quiet and peaceful!
Where do you write or blog?
Photo of Starling by Foxypar4